Responsible Business Week: how RBS is building a more sustainable bank
As a member of Business in the Community (BITC) UK, BITC Scotland and BITC Northern Ireland, RBS is supporting Responsible Business Week 2017 through a variety of initiatives across the different brands. Responsible Business Week 2017 runs from 24 to 28 April and is calling all businesses to share and exchange ideas for responsible business.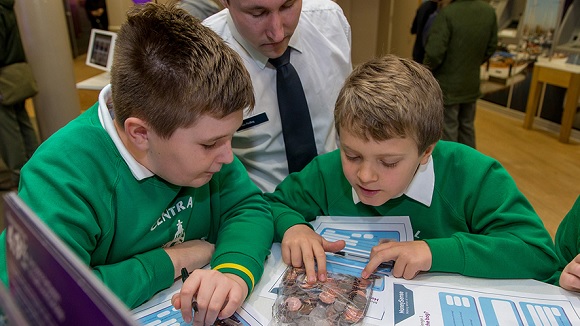 "We are building a more sustainable bank; a more responsible company, doing business in a more sustainable way. We consider the long-term impacts of our actions in our decision making, and we are proud that our enterprise and financial education programmes show the difference we're making for our customers and communities. Continuing to live by our values and providing, simple and fair banking will help us to build trust for the long term." Kirsty Britz, RBS Director of Sustainability.

RBS is proud to support Responsible Business Week and here below are a few activities that are making a difference.
MoneySense is RBS' free and impartial financial education programme for 5-18 year olds that has helped around 4.5 million young people learn about money over the last 22 years. By the end of 2018, another 1 million young people will have been taught about money and how to manage it.
There are now 10,000 registered teachers using MoneySense resources in their classrooms.
Resources are free to use for teachers and families, and can be found at MoneySense website.
The NatWest MoneySense programme is short-listed for the BITC Education Award in BITC UK's Responsible Business Awards 2017.
742 not-for-profit organisations across the UK and Ireland applied for the latest round of the NatWest, Royal Bank of Scotland and Ulster Bank Skills & Opportunities funding. The public vote is now open to decide which ones of the shortlisted 85 projects will go on to receive grants of up to £35,000 from a total pot of £1.25m.
From state-funded schools and colleges, to charities, social enterprises and community groups, each organisation is proposing to set up or extend a project that will give people in disadvantaged communities new skills and opportunities– whether that's by developing their financial capability skills, setting up their own business or developing their enterprise and entrepreneurial skills.
The public vote will remain open till noon on 5th May and winners will be announced on 6th June. Visit the NatWest Skills & Opportunities Fund, Royal Bank of Scotland Skills & Opportunities Fund or the Ulster Bank Skills & Opportunities Fund websites to vote.
As the first and only financial services partner of the National Trading Standards Scams Team 'Friends Against Scams' Initiative, RBS is raising awareness of the importance of fraud education. To date, over 6000 employees across the bank have completed the online training to help protect customers and clients from falling victim to fraud and scams.
RBS was able to protect customers from 498,000 fraud attempts in the UK, which stopped £303 million being stolen.
In Scotland, The Royal Bank of Scotland is chair of the Scottish National Action Plan for Responsible Business (SNAP-RB). Launched by BITC Scotland, the SNAP-RB initiative aims to improve educational experiences of all young people in Scotland and increasing employability.
In Northern Ireland, Ulster Bank is accredited by CORE, Northern Ireland's only corporate responsibility Standard and framework for identifying and measuring corporate responsibility activity and performance across organisations.
Ulster Bank is also currently short-listed for 3 awards in BITC NI's Responsible Business Awards 2017.
RBS is supporting UK start-up and scale up businesses in partnership with Entrepreneurial Spark by opening 6 new accelerator hubs in 2016, bringing the total to 12 across the UK. The business accelerator programme offers small businesses free office facilities as well as access to the bank's networks and contacts, a start-up Bootcamp, dedicated mentoring, regular events, workshops and training.
In 2016 the bank's partnership with The Prince's Trust directly helped over 2,000 young people, with more than 120 supported in running their own business.
RBS is a member of Business Emergency Resilience Group (BERG), the HRH Prince of Wales- led BITC network which helps small to medium-sized business owners recognise and plan for significant risks, to help them recover more quickly from an emergency.
Through BERG, RBS helped business owners recover from, the Cockermouth floods in 2010, Hebden Bridge flooding in 2012, Somerset floods in 2013/14 and the Ballater Station fire in 2015.
In the week since launching the JUMP programme, RBS has seen nearly 2000 employees register. The roll out follows a successful pilot last year that saw:
An average reduction in electricity of 5% during the working day and 10% out of hours
Branches reducing energy consumption by up to 30%
87% of participants stating that JUMP helped them protect the environment and reduce costs
The project has been shortlisted for recognition by the Better Society Awards, Business Green Awards, and the Employee Benefits Awards.
According to analysts at InfraDeals, RBS has been the leading lender to the UK renewables sector by number of transactions over the past 5 years (2012-2016).
We're now NatWest Group
Come and visit us for all our latest news, insights and everything NatWest Group.