Heywood Brothers & Co

---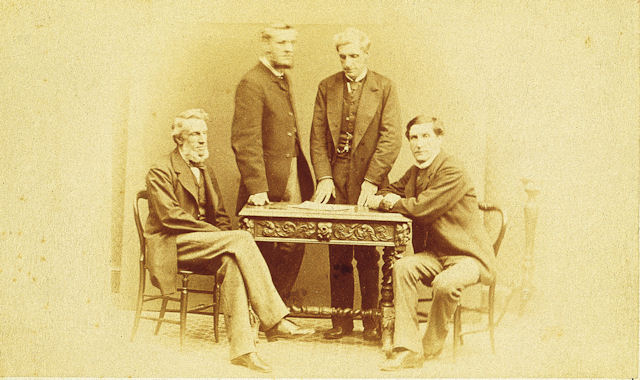 Image: Oliver, Arthur, Edward and Charles Heywood, partners in Heywood Brothers & Co, 1864 © RBS 2018
Heywood Brothers & Co (1788-1874), established in Manchester, was a past constituent of the Royal Bank of Scotland.
Brief history
This private bank was established in Manchester by Benjamin Heywood and his two sons, Benjamin Arthur and Nathaniel, as Benjamin Heywood, Sons & Co. It was also known as Manchester Bank. Benjamin was the brother of Liverpool merchant-adventurer and banker Arthur Heywood of Arthur Heywood, Sons & Co (est. 1773). The partners brought with them over £10,000 in bills of exchange and opened their business in Exchange Street, Manchester, in May 1788, with Barclay, Bevan, Tritton & Co (est. 1690) as their London agents. The bank flourished, moving in 1795 to a site in St Ann Street. Upon Benjamin Heywood's death in 1795 the firm became known as Heywood Brothers & Co. In 1815 Nathaniel Heywood died. His sons Benjamin, Thomas and Richard became partners in 1814, 1818 and 1820 respectively. Shortly afterwards the bank opened a short-lived branch, in Stockport, south of Manchester.
Benjamin Arthur died in 1828 and the following year both Thomas and Richard retired. With Benjamin Heywood remaining as sole partner, the firm's name was changed to Benjamin Heywood & Co, and when he was knighted in 1838 for his social and political work, it was restyled Sir Benjamin Heywood Bart. & Co. Heywood's sons Oliver, Arthur, Edward and Charles all joined the partnership as they came of age. In 1848 new bank premises with an adjoining house for the manager were built. Benjamin Heywood retired at the end of 1860 and the bank again became known as Heywood Brothers & Co.
In April 1874 the entire business was acquired by Manchester & Salford Bank for £240,000.
Published histories
Over Two Centuries of Banking in Manchester. A History of the Mosley Street and St Ann Street offices of The Royal Bank of Scotland (Edinburgh: privately published by The Royal Bank of Scotland, 1994)
'A Lancashire Banker and Parliamentary Reform' [Benjamin Heywood], Three Banks Review, September 1949, vol.3, p.29-34
'Oliver Heywood and the Overend Gurney Crisis', Three Banks Review, December 1951, vol.12, p.29-40
'Benjamin Heywood, Sons & Co', Three Banks Review, September 1978, vol.119, p.47-57
Summary of our archive holdings
Our archival records of Heywood Brothers & Co have the reference code HB.
For help understanding words used here, check our glossary of banking record types (PDF 24KB).
Partnership records
partnership agreements 1828-9, 1861
papers re retirements of Benjamin and Thomas Heywood 1828-74
Oliver Heywood's notebook 1854-64
dissolution and merger papers, Manchester & Salford Bank 1874
Financial records
journal of drafts and acceptances 1788-90
commission and interest book 1788-1840
papers re receivership for exchange of old for new silver coinage 1817
annual summary balances 1828-58
decennial statements book 1828-73
general ledgers 1830-74
profit and loss book 1841-64
rough credit balances, 1851-71
charges account books 1856-74
summary of business books 1871-4
monthly summary books 1874
Legal records
specimen banknotes and cheques re forgery 1782
papers re fraud 1871-3
Customer records
bad debt register 1788-1836
banker's draft forms 1790s
customer account ledgers 1791-1800
closed accounts book c.1800-47
papers re bad debts and customer bankruptcies 1802-12, 1846-68
customer directories 1815-74
cheque forms, cheques and cheque books c.1820s, 1835, 1847, 1864-74
calculations of bad debts 1828
signature books 1834-60
authorities books 1837-74
unpaid bills 1841-74
letter of guarantee 1847
weekly balance book 1849-70
manager's private customer notebook late 19th cent.
inventory of securities left for safe custody c.1852-74
bills of exchange 1853-7
stock book c.1858-74
register of customers served 1860-2
probate registers 1862-74
Staff records
notebook listing new staff 1855-74
photographs of partners c.1860s-1874
Property records
drawings of new bank c.1847
Note issue records
comments on banknote design, early 19th cent.
banknotes c.1820s
Other records
diary notes re Overend Gurney crisis 1866
memoir of Sir Benjamin Heywood c.1867
Summary of archive holdings elsewhere