The Queen's Diamond Jubilee £10 note, 2012

---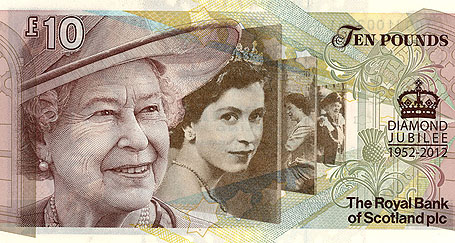 A decade after the Queen's golden jubilee note, this £10 note was issued to celebrate 60 years of the reign of Her Majesty Queen Elizabeth II.
It is dated 6 February, the anniversary of the day of Her Majesty's accession to the throne.
Other features include:
the official crown emblem of the Diamond Jubilee
four intaglio portraits of the Queen, showing her at different stages in her life
an engraving of a window in Holyrood Abbey
a thistle design, related to the Order of the Thistle
serial numbers with the prefix TQDJ, standing for The Queen's Diamond Jubilee.