This page will be refreshed during H1 2020

Managing ESE risk

---
The activities of our customers can have environmental, social and ethical (ESE) impacts – including the potential for human rights infringements. To help us assess and manage these risks, we operate an ESE risk management framework which has been live since 2011. As part of this process, we conduct due diligence on customers, projects and transactions that present heightened ESE risk. We also expect our customers to adhere to environmental, social and human rights standards.
RBS has developed ESE risk appetite positions on industry sectors where enhanced due diligence is conducted. We also perform assessments on customers or transactions in other sectors where ESE Risk Concerns are identified.
Sector ESE risk appetite positions define the level of ESE risk the bank is prepared to accept, and our expectations of companies to manage ESE risks in the relevant sectors. They are reviewed and updated regularly to take account of changes in regulation and good international practice.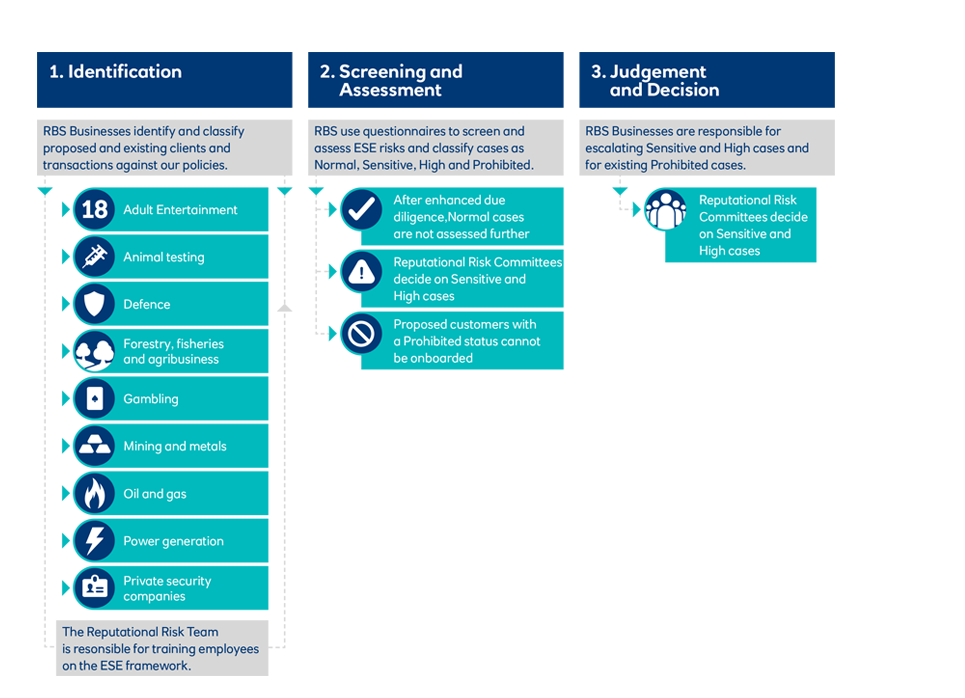 See process chart as PDF (PDF 86KB)
During 2018, training on ESE risk continued to be delivered to customer-facing businesses and functions, including focused training for specific teams. This training will better equip our staff to identify, assess and escalate issues with heightened ESE risk.
Country Reputational Risk Framework
We continue to use a country reputational risk rating model that assesses the reputational risk of RBS doing business in countries where our customers operate. This rating system takes into account political, bribery, corruption and money laundering risk, as well as the country's human rights record. The model is used in conjunction with our sector ESE risk appetite positions to help ensure the risks of customers doing business in higher risk countries are managed.
Summary of ESE risk assessments in 2018
The graphs below show the number of corporate customers assessed against our ESE policy in 2018.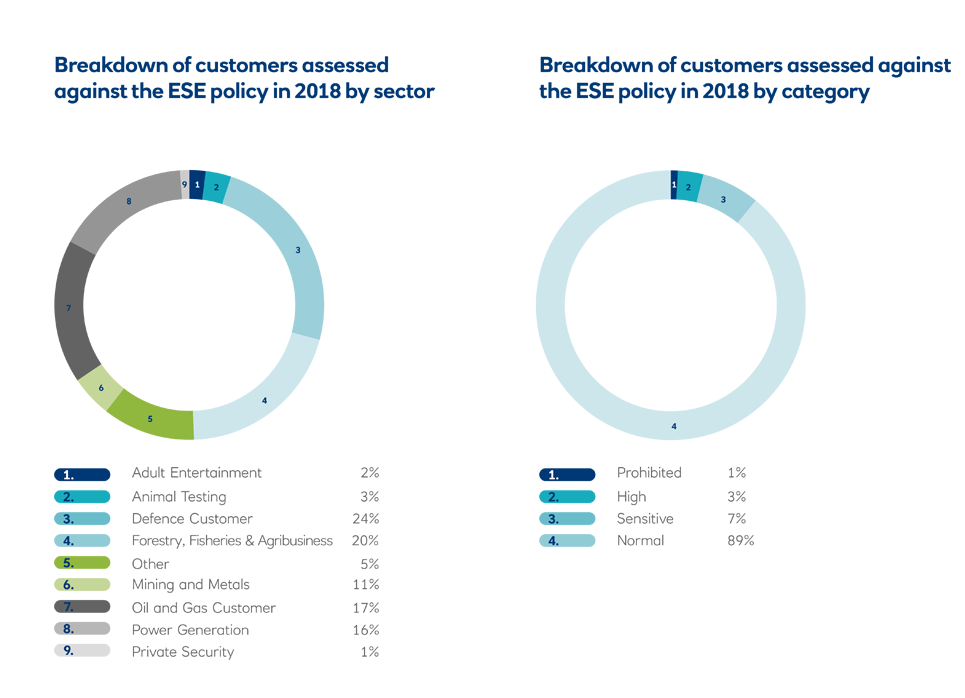 See breakdown of customers chart as PDF (PDF 79KB)
The total number of customer ESE assessments undertaken in 2018 (386) increased by 59% compared to 2017 (243). The 386 customer ESE assessments are represented in the above charts by sector and also by ESE Risk Category.
We also assessed 177 transactions involving defence goods. This included a small number of transactions involving goods destined for nuclear power plants. By comparison, in 2017 we assessed 145 defence-related transactions.
Gambling customers have not been included in the above commentary, as a separate review and approval process is followed for them. A Gambling risk appetite statement will be published externally later in 2019.