We continue to work towards our goal of having at least 30% senior women in our top three leadership layers across each business by 2020 and to be fully gender balanced (50/50) by 2030. Sponsored by Les Matheson, CEO Personal & Business Banking, we have a positive action approach in place, tailored by business, according to the specific challenges they face.
As at 31 December 2016
Grade
#Women
#Men
%Women
CEO-1
3
10
23
CEO-2
33
73
31
CEO-3
232
443
34
CEO-4
1512
1891
44
Target population(CEO-3 and above)
268
526
34*
*Limited assurance provided by Ernst & Young LLP over total gender balance in top 3 senior layers.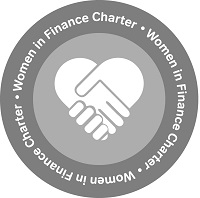 Demonstrating our commitment to creating gender balance at all levels of the organisation, RBS were one of the first signatories to the HM Treasury Women in Finance Charter requiring organisations to publicly report on progress against the targets they have in place. As at June 2017, we reported to the HM Treasury Women in Finance Charter that the proportion of women in the top three layers of our organisation was 34%.
We're also participating in McKinsey's 'Women Matter' research.
We've been active consultants in the process to create the upcoming Gender Pay Gap Reporting regulations. We plan to comply fully with the regulations and make a public disclosure during 2017.