Creating a healthy culture

---
The bank's long-term success depends on us creating a healthy culture where colleagues are engaged, and where our working environment is underpinned by robust risk behaviours.
Our Values guide the way we identify the right people to serve our customers well, as well as how we manage, engage and reward our colleagues. They're at the heart of both Our Standards (the bank-wide behavioural framework) and Our Code (the bank-wide Code of Conduct).
To make sure we really live Our Values, we reinforce them in our policies and processes, communications, training and leadership role-modelling.
How we measure our progress
We continue to monitor our progress against our goals – gathering feedback from colleagues through our listening strategy, and using metrics and key performance indicators (KPIs) to assess our progress and respond accordingly. We do this alongside feedback from regulators and industry bodies, including the Banking Standards Board's (BSB) annual assessment of culture in the UK banking sector.(*)
In 2018, almost 60,000 colleagues completed our opinion survey – the highest participation in the last five years. The results were the most positive we have seen since we started to measure engagement and show we are changing the culture of the bank for the better. Key measures of engagement, leadership and our culture have improved significantly, and we are now above the global financial services norm in all of our comparable survey categories. The continued strengthening of our culture was also echoed in this year's improved BSB assessment, which provides further proof of progress across a range of measures.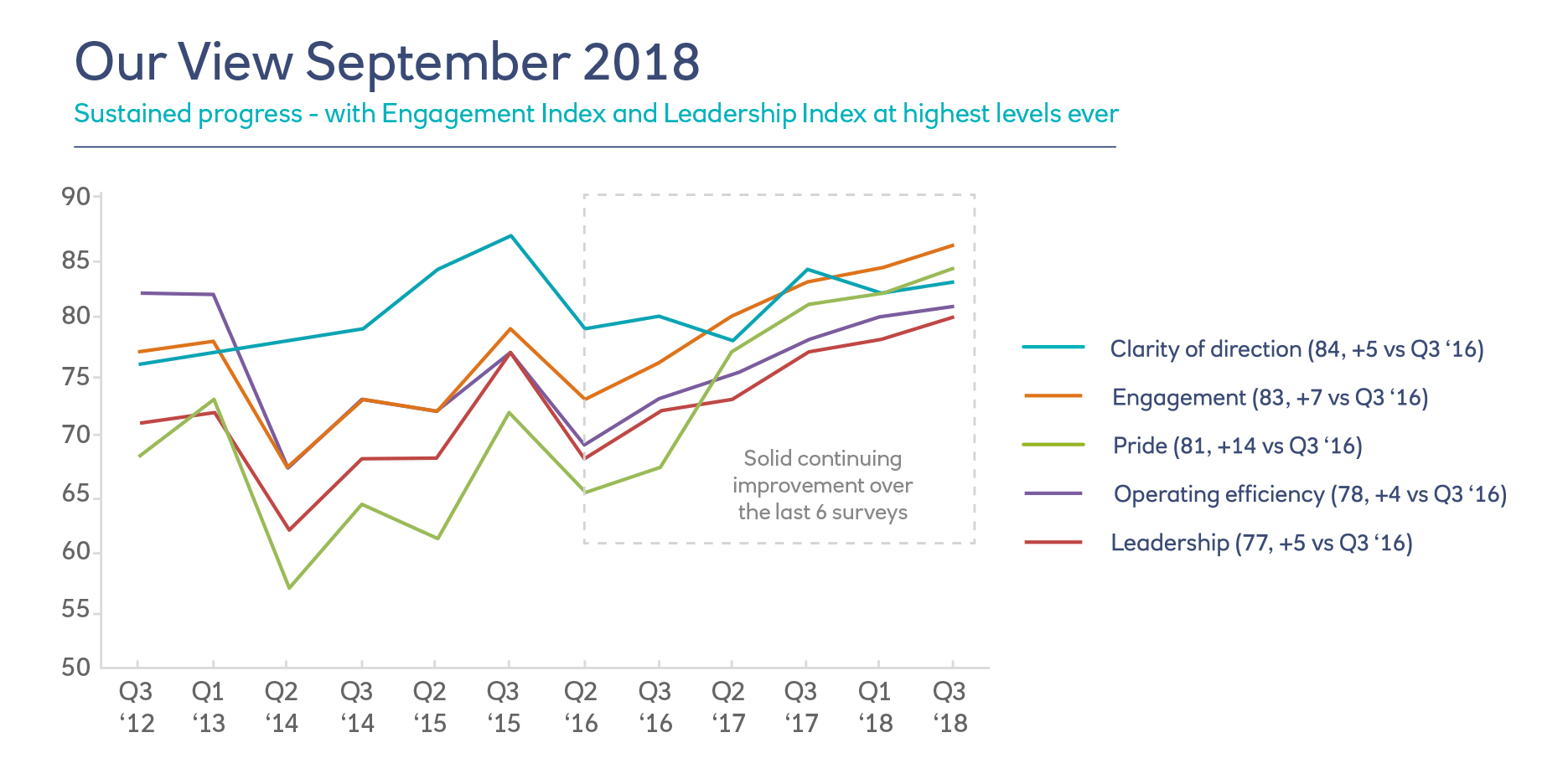 Whistleblowing

We encourage colleagues to tell us what they think via the annual survey and our regular comments boards. Where colleagues wish to report concerns relating to wrong doing or misconduct, one of the ways in which they can do this is by raising their concerns via Speak Up, the bank's whistleblowing service. In 2018, 480 cases were raised compared to 290 in 2017. Our colleague opinion survey has shown the highest ever score when asking colleagues if they feel safe to speak up, as well as understanding the process of how they do that.
(*) Limited assurance provided by Ernst & Young LLP.