Ratings and benchmarks

---
Every year RBS proactively responds to the Dow Jones Sustainability Index (DJSI), FTSE4GOOD ratings and CDP investor questionnaire on climate change. The DJSI and FTSE4GOOD cover the full breadth of environmental, social and governance (ESG) indicators, whilst the CDP is focused specifically on climate change and the low carbon transition.
The table below summarises our scores over the last three years against these key benchmarks: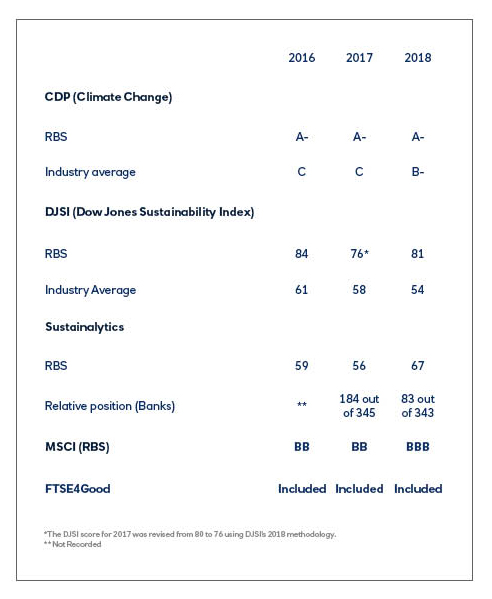 In 2018, we maintained or recorded an improvement in our scores across all of these submissions. Notably, our score in the Dow Jones Sustainability Index has increased this year to 81, with RBS being the only UK Bank to be included in the DJSI World and Europe Indices, one of only 10 in Europe and 27 globally.
We also began to proactively engage with SustainAnalytics and MSCI on their ESG ratings. We have recorded some improvements to our scores in these assessments by helping these agencies to better understand our approach and performance on ESG matters. We will continue to work closely together with them.
We continue to respond to the UN Global Compact (UNGC) annually, which signals our support for the universal principles on human rights, labour, environment and anti-corruption. A copy of our latest UNGC Compact Communication of Progress is available here.
Read about our awards and recognition