The content on this webpage will be updated during H1 2018


Sustainable energy

---
Finance continues to play a key role in the transition to a low carbon economy by helping our customers to mitigate their emissions, save energy and reduce costs. We have over twenty-five years experience in supporting the sector. In 2016, we lent over £1.1 billion to sustainable energy.* We have also been externally recognised as the leading lender to the UK renewables sector by number of transactions over the past 5 years (2012-2016).**
During 2016 key highlights included:
Ulster Bank's project finance team completed their 1st wind deal in Northern Ireland – Altaveedan 18MW windfarm will generate enough electricity to power approx. 15,000 homes with clean energy.
Lombard launched its Alternatively Fuelled Vehicles proposition with customer events with Tesla and the Energy Saving Trust.
RBS's Project Finance and Renewable Energy Funds teams have supported a leading UK listed solar investment fund Bluefield since their IPO in 2013. In 2016, RBS acted as debt arranger on the completion of an initial £200m bridge to bond alongside Investec. This was followed by RBS acting as advisor for the provision of long term financing of around £185m at historically low rates.
* Limited assurance provided by Ernst & Young LLP.
** According to InfraDeals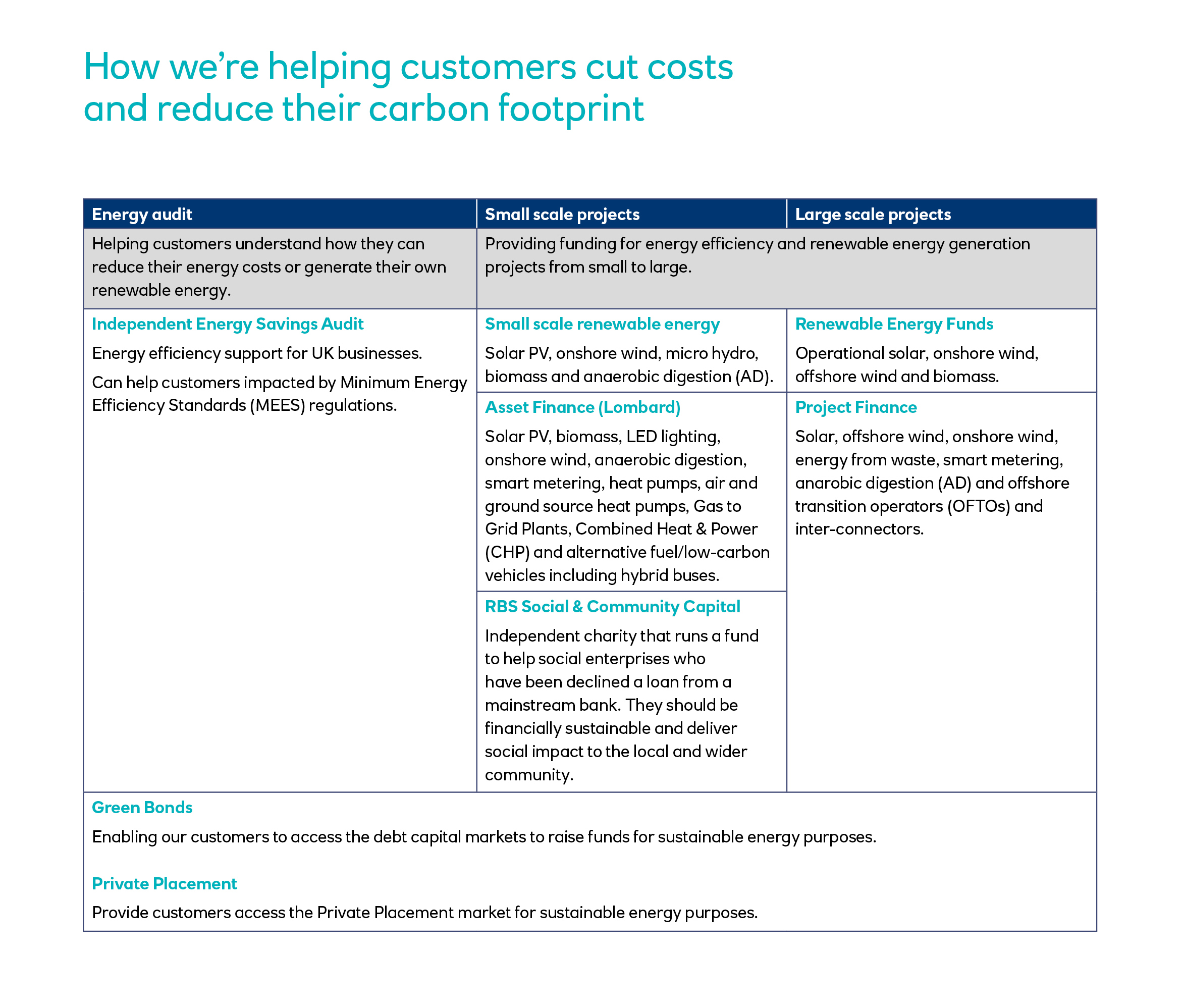 If you interested in finding out how we can help and support business customers please visit the relevant pages:
Other content in this section
Case studies
---
Case study 1: Beatrice Offshore Wind Farm
---
Beatrice Offshore Wind Farm is projected to power approximately 450,000 homes. It was one of the first 8 UK projects to be awarded an Investment Contract under the Contract for Difference feed in tariff. It will contribute £680m in the construction phase to the economy through supply chain opportunities and employment. It is estimated to have an on-going £400m-525m impact on the economy over the windfarm's 25 year operational life. An integrated approach was delivered by RBS through close collaboration between teams highlighting the breadth, strength and market leadership of the RBS franchise and ensuring a successful outcome for our customer.
---
Case study 2: How we brightened up McColl's balance sheet with LEDs
---
McColls are a rapidly growing retailer, running 1366 convenience stores. As lighting accounts for almost 25% of energy consumed, McColls wanted to introduce LED lighting. We outlined the finance options and arranged £2.7m in commercial loans to access on a drawdown basis.
Spreading the cost helped conserve working capital and liquidity within the business. As LED systems could save 35% of store lighting costs, there will also be a significant return on investment over future years, translating into an 11% saving on overall electricity costs, (around £1m per year). They will also reduce their carbon footprint by around 1,000 tonnes p.a.