Sustainable energy

---
Finance continues to play a key role in supporting the transition to a low carbon economy. We are working to support our customers' ambitions to mitigate their emissions, save energy and reduce costs. We have over 25 years' experience in supporting our customers in this sector – providing bespoke solutions to mitigate their emissions, funding their renewable energy generation, and financing innovative projects to spread new and more efficient energy technologies.

In March 2018, we announced our 2020 ambition:


With this ambition, we committed to funding £10bn to the Sustainable Energy sector by 2020. This will include continued financing of low carbon generation and energy efficiency projects, as well as an increased focus on energy efficiency in real estate and alternatively-fuelled vehicles.

This year, we helped our customers, both small and large, transition towards a low carbon economy by providing funding to the Sustainable Energy sector. This includes funding for various low carbon generation and energy efficiency technologies, low carbon vehicles and increasingly helping clients raise funds through green bonds, green loans and green private placements. We have also been externally recognised as a leading lender to the UK renewables sector by number of transactions over the past 10 years (2010-2018).

During 2018, key highlights included:
NatWest supported South West Water Ltd with a landmark Green Credit facility to support its sustainability ambitions. The facility will include pricing benefits for compliance with sustainability targets that are assessed by an independent third party


NatWest and NatWest Markets supported the flagship innogy offshore wind farm project in the UK North Sea. Triton Knoll Offshore Wind Farm Limited will be capable of supplying the equivalent of over 800,000 UK households a year with renewable electricity, with a total capacity of 860MW


NatWest Markets supported the Royal Schiphol Group, owner of the Amsterdam Schiphol Airport with an inaugural Green bond issuance in Europe for an airport
We are ever more committed to becoming a more sustainable bank, a more responsible company, doing business in a more sustainable way and helping our customers do so too.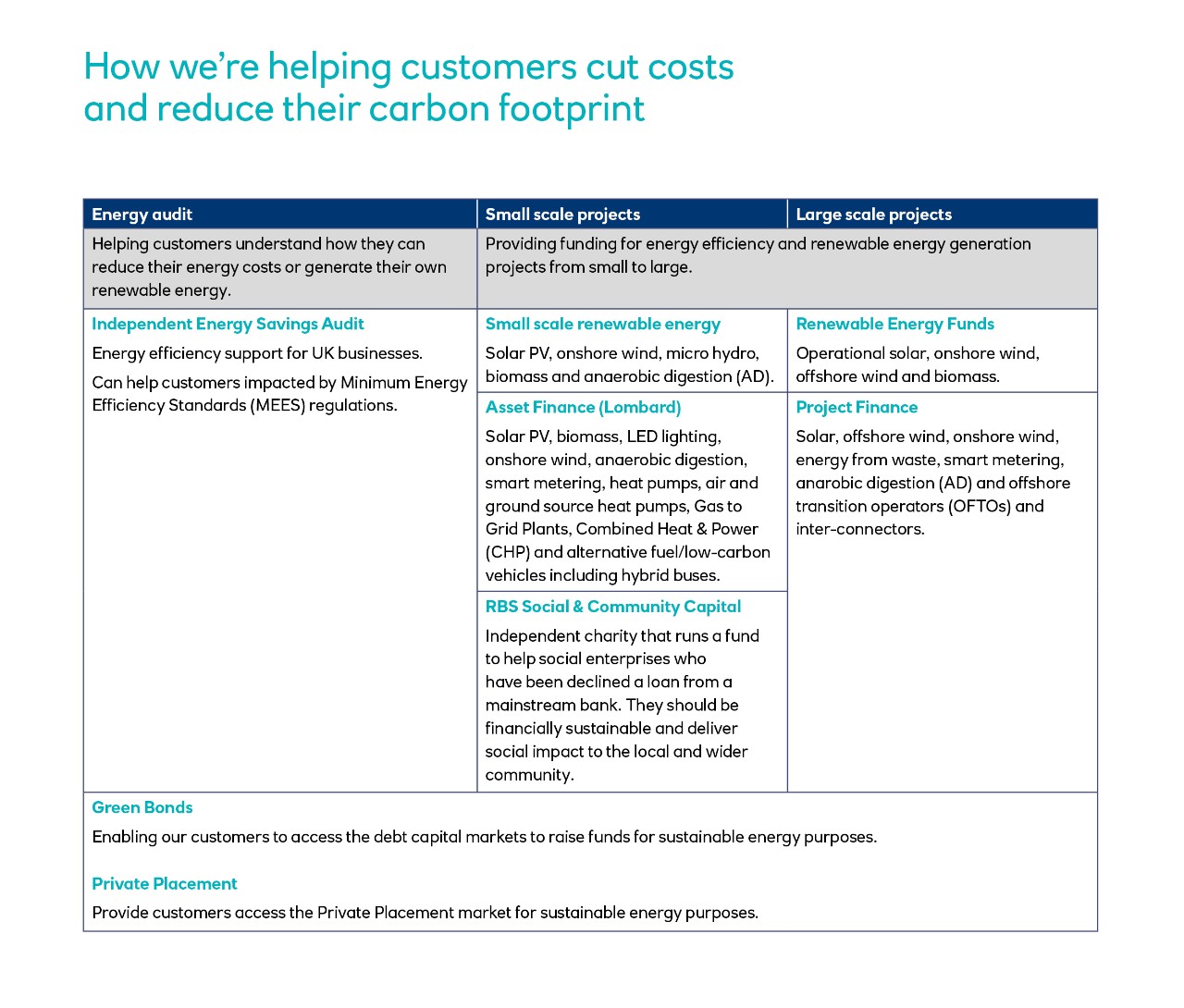 If you're interested in finding out how we can help and support business customers please visit the relevant pages: