Michael Vaughan steps up to test his fours and sixes with NatWest's 'MoneySense Mondays' to support parents home-schooling their children
On Monday 18 May, both young cricket fans and their parents will receive a special surprise as former England captain and NatWest ambassador, Michael Vaughan, joins MoneySense Mondays with his daughter Jemima.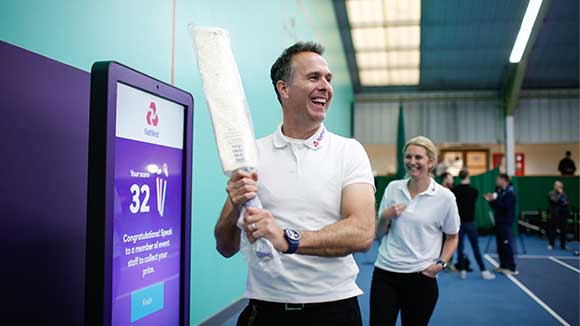 The live lesson will be hosted on NatWest's Facebook and YouTube channels this Monday at 10:30am. The live element gives parents and children the opportunity to interact and participate in the activities.

Lessons are split into two sessions, 30 mins for Key Stage 1 students (age 5 - 8) and 30 mins for Key Stage 2 students (age 8 - 12).

MoneySense Mondays launched on 27 April and will run until 8 June.

Michael Vaughan, former England captain and NatWest ambassador said:

"As many parents will agree, it's been a pretty tough time over the past few months trying to keep home-schooling interesting and fun for kids. My daughter Jemima is at Key Stage 2 which is a really crucial time. MoneySense Mondays from NatWest are a great solution as they provide tangible skills for managing money that Jemima can use as she gets older. I just hope I manage to keep up with her!"

Kirsty Britz, Director of Sustainable Banking at NatWest said:

"Financial education should be available for all children. This has never been more important than during this difficult time, when personal finances are front of mind. And with one third of parents worrying their children will ask them a question about money that they themselves can't answer, the more we can do to support parents with up-to-date information, the better.

"I encourage parents to use these free NatWest resources at home – it's easy to join in with us on Facebook every Monday morning and register for updates at mymoneysense.com"

With millions of parents now having to home-school their children, the need to take the difficulty out of finding appropriate resources has become more important. NatWest MoneySense launches new content every fortnight, covering a basic money topic for 5 to 16 year-olds. Each bundle includes two activities or games per age group - 5-8, 8-12 and 12-16 - that can be completed independently or with help from parents.
NatWest has also just launched Island Saver, a free-to-download game on PlayStation 4, Xbox One, Nintendo Switch and Steam. Designed for 7-12 year olds, it harnesses children's enthusiasm for video games as an opportunity to teach them about money management.
For students keen to learn on their own, there are a range of fun games and interactive challenges available on mymoneysense.com.
We're now NatWest Group
Come and visit us for all our latest news, insights and everything NatWest Group.