RBS announces decisions on dividends in response to Covid-19
In order to serve the needs of businesses and households through the unprecedented situation presented by Covid-19, the Royal Bank of Scotland Group plc ("RBS") Board of Directors ("Board") has decided to undertake no quarterly or interim dividend payments, accrual of dividends or share buybacks and defer decisions on any future shareholder distributions until the end of 2020.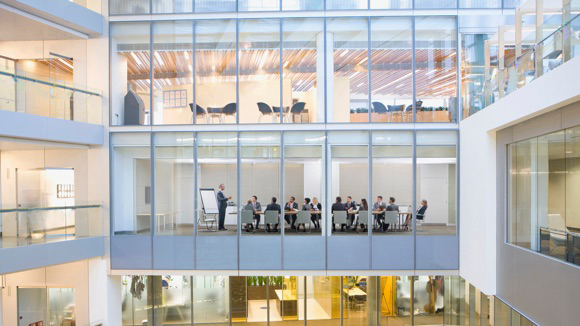 In response to a formal request from the Prudential Regulatory Authority, the Board has also decided to cancel the final ordinary and special dividend payments in relation to the 2019 financial year ("2019 final dividends") and not submit them for approval to the RBS AGM to be held on 29 April 2020.

RBS continues to maintain its robust capital and liquidity position and enters this period with more than sufficient capital to accommodate the combined simultaneous impact of severe UK and global recessions and a financial markets shock as demonstrated through our performance in recent Bank of England stress tests.

As a result of this Board action, the 2019 final dividends and an associated dividend-linked contribution to the main RBS UK pension scheme(1), are cancelled. These were reflected in the 31 December 2019 CET1 capital as foreseeable deductions, in particular:

• Ordinary dividend of 3p per share totalling £363m and equating to 20 bps of Q4'19 CET1;
• Special dividend of 5p per share totalling £605m and equating to 34 bps of Q4'19 CET1; and
• Dividend linked contribution of £500m pre-tax, £365m post-tax, and equating to 20 bps of Q4'19 CET1.

This Board action reduces the RBS CET1 capital deductions by £1,333m, equating to an improvement from the FY19 published 16.2% CET1 ratio of 74 bps.

For completeness, this has no impact on the payment of interest on outstanding preference shares or Alternative Tier 1 instruments ("AT1") issued by RBS and its subsidiaries.

The Board remains committed to capital returns, will continue to review the situation and will look to resume distributions to ordinary shareholders in due course.

RBS Chief Executive Alison Rose said:

"RBS has a robust capital and liquidity position and we are focused on ensuring we support our customers and help them to navigate the immediate and longer-term challenges they are facing as a result of Covid-19.

"As we continue to build a purpose led bank we are committed to balancing the needs of all our stakeholders. Helping people, families and businesses who need our support is the right thing to do at this time of significant uncertainty.

"The Board remains committed to capital returns, will continue to review the situation and will look to resume distributions to ordinary shareholders in due course."
(1) - Under the terms of the agreement with its main UK pension scheme trustee in April 2018, RBS is committed to make contributions to that scheme from 2020 at a level matching shareholder distributions made during each year up to an annual maximum of £500 million and a cumulative total of £1.5 billion.
Forward-looking statements
This announcement contains forward-looking statements within the meaning of the United States Private Securities Litigation Reform Act of 1995, such as statements that include, without limitation, the words 'expect', 'estimate', 'project', 'anticipate', 'commit', 'believe', 'should', 'intend', 'plan', 'could', 'probability', 'risk', 'Value-at-Risk (VaR)', 'target', 'goal', 'objective', 'may', 'endeavour', 'outlook', 'optimistic', 'prospects' and similar expressions or variations on these expressions. These statements concern or may affect future matters, such as RBS's future economic results, business plans and current strategies. In particular, this document may include forward-looking statements relating to RBS in respect of, but not limited to: its regulatory capital position and related requirements, its financial position, profitability and financial performance (including financial, capital and operational targets), its access to adequate sources of liquidity and funding, increasing competition from new incumbents and disruptive technologies, its exposure to third party risks, its ongoing compliance with the UK ring-fencing regime and ensuring operational continuity in resolution, its impairment losses and credit exposures under certain specified scenarios, substantial regulation and oversight, ongoing legal, regulatory and governmental actions and investigations, LIBOR, EURIBOR and other benchmark reform and RBS's exposure to economic and political risks (including with respect to Brexit and climate change), operational risk, conduct risk, cyber and IT risk, key person risk and credit rating risk. Forward-looking statements are subject to a number of risks and uncertainties that might cause actual results and performance to differ materially from any expected future results or performance expressed or implied by the forward-looking statements. Factors that could cause or contribute to differences in current expectations include, but are not limited to, the final number of PPI claims and their amounts, legislative, political, fiscal and regulatory developments, accounting standards, competitive conditions, technological developments, interest and exchange rate fluctuations and general economic conditions. These and other factors, risks and uncertainties that may impact any forward-looking statement or RBS's actual results are discussed in RBS's UK 2018 Annual Report and Accounts (ARA), RBS's Interim Results for H1 2019 and materials filed with, or furnished to, the US Securities and Exchange Commission, including, but not limited to, RBS's most recent Annual Report on Form 20-F and Reports on Form 6-K. The forward-looking statements contained in this document speak only as of the date of this document and RBS does not assume or undertake any obligation or responsibility to update any of the forward-looking statements contained in this document, whether as a result of new information, future events or otherwise, except to the extent legally required.

MAR - Inside Information
This announcement contains information that qualified or may have qualified as inside information for the purposes of Article 7 of the Market Abuse Regulation (EU) 596/2014 (MAR). For the purposes of MAR and Article 2 of Commission Implementing Regulation (EU) 2016/1055, this announcement is made by Alexander Holcroft, Head of Investor Relations for The Royal Bank of Scotland Group.

Legal Entity Identifiers
The Royal Bank of Scotland Group plc 2138005O9XJIJN4JPN90


We're now NatWest Group
Come and visit us for all our latest news, insights and everything NatWest Group.