One year on, progress on Rose Review continues with development of The UK Enterprise Fund
The Alison Rose Review of Female Entrepreneurship today publishes its Progress Report – a year on from launch, and announces the development of 'The UK Enterprise Fund' in partnership with BGF.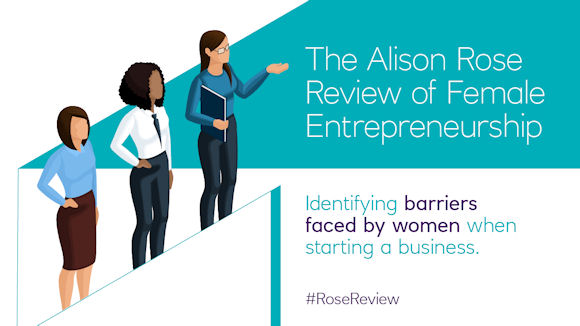 Last year, the Government-commissioned Review identified 8 practical recommendations to start to address the barriers facing the UK's female entrepreneurs. Today's Progress Report highlights the real, tangible action that has been taken over the year as private and public organisations have come together to address the disparity which exists between female and male entrepreneurs, a gap that the Review identified as being worth £250 billion in untapped potential for the UK economy.
With access to capital still being identified as the biggest barrier, today's Rose Review Update announces that Coutts, the Private Banking arm of NatWest, is working with Business Growth Fund (BGF) to launch The UK Enterprise Fund. Through this private investment fund, together Coutts and BGF will bring additional funding, growth capital and support to entrepreneurs, allowing them to scale up and grow. The partnership will identify and address equity gaps across the whole of the UK entrepreneurial ecosystem, with specific initiatives and programmes focused on female-led businesses and increasing the diversity of management teams. Terms and conditions/eligibility criteria will apply once the Fund launches.
Alison Rose, CEO NatWest, commented: "When we launched the Rose Review 12 months ago, the ambition was this would galvanise real action through a series of recommended practical steps. Over the course of the last 12 months we have seen real action. I am proud today to provide this Update Report, full of examples of the tangible and targeted support that has been implemented for the UK's female entrepreneurs.
"Announcing that Coutts is working with BGF to develop The UK Enterprise Fund, is a pivotal moment for the Rose Review and represents the great progress made in addressing the biggest barrier to women led businesses, that of access to capital.

"Throughout the year, NatWest has also announced £1 billion of Female Entrepreneurship Funding, launched Back her Business the UK's only female crowdfunding platform, developed and launched a number of Family First banking products, and successfully piloted and rolled out the financial Expert in Residence programme across all 38 LEPs. And I know that other banks and institutions are equally committed to making a difference and have activity underway - together we have established The Rose Review Board and the Council for Investing in Female Entrepreneurs*.

"The progress that has been made in a relatively short period of time, whilst impressive, is just the beginning. I look forward to continuing to work with all those individuals who are devoting their time and energy to the cause of helping female entrepreneurs – as we look to achieve the Government's target to increase the number of female entrepreneurs by half by 2030."
Improving access to capital has been an absolute priority for all involved in driving the Rose Review's recommendations, and other progress over the year also saw the announcement from NatWest of £1 billion of ringfenced debt funding for female-led businesses, the largest intervention yet by a UK lender. And through Back Her Business, the UK's only female crowdfunding platform, NatWest has supported female-led businesses raise over £3 million across the UK since it launched last April.
Another key finding from the Rose Review was the need to improve access to expertise and local support for female entrepreneurs. Following a successful pilot, all 38 Local Enterprise Partnerships throughout England, now have access to a financial Expert in Residence – with NatWest dedicating specific time each week to helping local entrepreneurs tackle challenges identified in the Rose Review. This dedicated and targeted support is having a tangible impact in the LEPs, with Coast to Capital increasing the number of applications from women for its 2019 Growth Grant programme by 50%.
To help in promoting greater transparency, The Investing in Women Code was formally launched last year and now has 22 signatories* from the finance and investor community. The Code is a commitment to support female entrepreneurship in the UK by improving women's access to the advice, resources and finance needed to build a business. HMT has been working closely with industry to agree the data requirements and Supporting Guidance for the Code which will be published in Spring 2020.
Small Business Minister Paul Scully said: "We are committed to closing the gap between male and female entrepreneurs, equipping women with the tools they need to start and grow their own businesses. There is still work to do to remove the barriers faced by women, but the Rose Review has already made a huge impact in just one year."
The Economic Secretary to the Treasury, John Glen, said: "We must continue to do everything we can to support female entrepreneurs and ensure there are no barriers blocking their paths to success. I'm delighted the Review has made such significant progress in closing the disparity between male and female entrepreneurs in such a short space of time - but it's vital we do more."
Stephen Welton, CEO of BGF said: "We're delighted to join forces with Coutts, who share our ethos and passion around inclusive entrepreneurship. That needs to be about more than just money. With the right focus, role models, support and capital we can and should do much better as an industry. This partnership will test both investor and entrepreneur appetite to do more."
*The full update report can be accessed here: Alison Rose Review of Female Entrepreneurship - Progress Report

Disclaimer
This article is for media use only and is not a financial promotion.
£1bn Female Entrepreneurship Funding - Eligibility criteria applies. Will be available to sole traders, partnerships and Limited Companies which are female led (Min 50% ownership by female or female in prominent position on Board e.g. MD, CEO,CFO,COO). Security and product fees may apply. For business use only.
Back Her Business crowdfunding platform - UK residents with new UK projects can apply. Eligibility (including type of project) and specific criteria apply.
We're now NatWest Group
Come and visit us for all our latest news, insights and everything NatWest Group.