Alison Rose visits UK's first 'Intelligent Town'
CEO Alison Rose visited the site of one of the South West of England's most exciting building projects.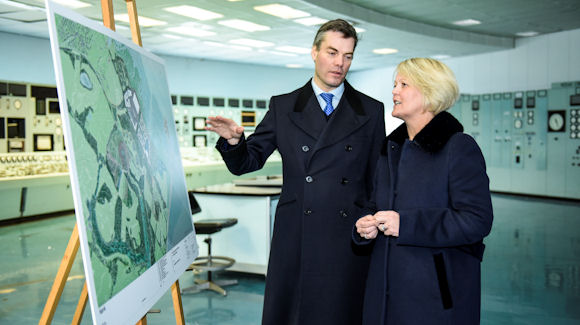 The team behind Fawley Waterside – the redevelopment of the former Fawley Power Station site in Fawley, Hampshire – showed Alison Rose their future plans for the site that include the creation of 1,500 homes, 2,000 jobs and a self-sustaining community.
Projects like this provide residents with a higher standard of living, better infrastructure and a cleaner and more sustainable environment by creating the 'perfect urban operating system'.
CEO Alison Rose said: "A key thread of the bank's strategy is that we must play our part in tackling problems such as climate change, so seeing projects, like the Intelligent Town at Fawley Waterside, which are underpinned by a sustainable agenda is both exciting and inspiring. As new technologies and sustainability are built into the way that we will live in the future, we as a bank must find the best way to support companies and communities in a similarly innovative fashion."
Aldred Drummond, Chief Executive of Fawley Waterside, said: "The town we plan to build will act as a blueprint for sustainable town planning. It's incredibly encouraging to have the support of companies like NatWest who are committed to championing innovation that can help to combat the current climate crisis."
Paul Edwards, Regional Managing Director, NatWest, said: "The vision of Fawley Waterside – to deliver a town with a sustainability first agenda is an ambition that every new development should aspire to. It's hugely exciting to see a project that has the potential to set the standard for how we will live in the future – sustainably and connected – all here in the Solent."

We're now NatWest Group
Come and visit us for all our latest news, insights and everything NatWest Group.