Bó – the digital bank to help people do money better – is now live in App Store and Google Play
Bó – the digital bank to help people do money better – is now live in the App Store and Google Play, featuring a bright yellow Visa card and a mobile app.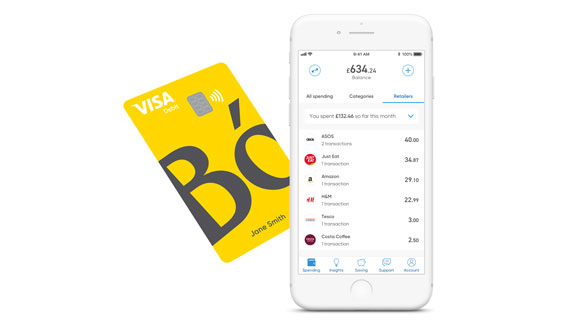 As part of NatWest's continued focus on innovation, Bó has been built on new technology as a digital, cloud-based bank with its own Faster Payments connection.
Utilising the latest technology, Bó has been specifically designed to help people manage their everyday spending by allowing them to budget, set goals and track their progress. Data from 2.6 million anonymised NatWest customers was analysed in July this year and showed that:
Half of these customers spend everything they earn
An additional 1/4 consistently spend more than their income
For people with an income of less than £100k, there is no link between income and the amount of income saved. In other words, the issue is behavioural.
To help customers build the habits that will help them do money better, the features available in the app have been built to replicate the behaviour of successful savers, with input from experts in behaviour change and money management.
People can use Bó to:
Separate spending money from bills: Transfer spending money to Bó so you can manage it better
Keep tabs on spending: Get instant alerts whenever you use your card so you know what you've spent and where
Get to know spending habits: See everything you buy listed by retailer, category and location
Feel on top of money: Create a Spending Budget to help you save towards your goals
Save little by little: Set a Bó goal and start putting money in your Piggy Bank
Spend like a local: Experience more abroad with great Visa exchange rates.
The Chief Executive of Bó, Mark Bailie, commented:
"In this digital, contactless age, people need support managing their money more than ever. It is all too easy to lose control. Our data suggests that three quarters of people in the UK are living financially unsustainable lives. We want to help change this.
"We are launching Bó to help people build the habits and routines that will allow them do money better day-by-day and week after week so they can fund their lives and lifestyles in a more sustainable way.
"As we're part of NatWest, people can rely on Bó to keep their money safe. But as a digital bank, built entirely on a separate cloud-based technology, Bó is also able to harness new technology and develop rapidly in line with our customers' needs and expectations.
"With Bó we have an opportunity to help address a genuine societal need and to be a positive force in our customers' lives. Our aim is to transform the nation's attitudes and behaviour around money and I'm hugely excited to see what we can achieve."
Disclaimer:
This information is for media use only and is not a financial promotion
Use of the Bo app requires you to be 18 or over and a UK tax resident. You'll also need an iPhone on iOS 10 (or later) or an Android phone with 6.0 Marshmallow or above.
We're now NatWest Group
Come and visit us for all our latest news, insights and everything NatWest Group.