'Ask for more': Royal Bank of Scotland brings together inspiring panel of women in business
Royal Bank of Scotland is bringing together Scotland's most inspiring, like-minded and motivated women at an event to encourage female entrepreneurs to 'Ask for More' when it comes to their businesses.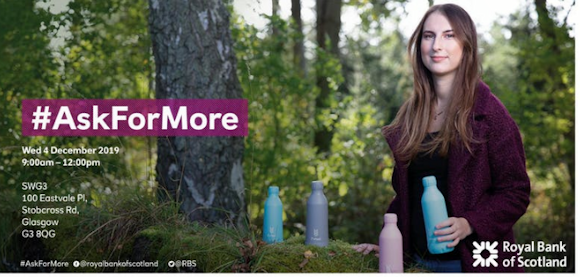 Hosted by journalist, Zara Janjua, Ask for More is a free event that will take place in the creative surroundings of SWG3 in Glasgow on Wednesday, 4th December at 9am. The event aims to support women with the tools they need to thrive and realise their business potential.

Zara Janjua will be joined by an expert panel of female entrepreneurs to offer their unique experience and guidance through a live panel discussion and Q&A with the audience.

The stellar line-up includes journalist and author of Jog On, Bella Mackie; founder of the Bross Bagels empire, Larah (Mama) Bross; lifestyle writer, influencer and photographer Sara Tasker and Melinda Mathews, CEO of Codeclan – a digital skills academy.

Following the main event, there will be an opportunity for attendees to take part in 'speed mentoring' sessions with experienced women in business from across the country including beauty and lifestyle journalist and influencer Susie Cormack-Bruce, Tammy Koslowski from NAF! and founder of Edinburgh Gossip Girls, Kylie Reid.

The event comes after a study commissioned by Royal Bank in partnership with YouGov, revealed that while more than half (53%) of female entrepreneurs and business owners surveyed are looking to grow their business over the next three years, three-quarters (78%) said they have never asked for external funding.

The survey, which looked at the opinions of more than 500 business owners across Scotland, shows that male entrepreneurs are also more likely than female entrepreneurs to ask for funding from an external source (25% compared to 21%).

Susan Fouquier, Managing Director, Business Banking at Royal Bank of Scotland, said:

"At Royal Bank, we are committed to supporting women in business in Scotland and providing female entrepreneurs and aspiring starters with the tools and advice they need to realise their business potential – whatever stage they are at in their career.

"Our research has shown that there is a deficit between the ambitions of Scottish female entrepreneurs and the practical measures they are taking to further their businesses - we hope to directly address this gap through initiatives like our Accelerator Hub and our Back Her Business programme.

"The Ask for More event seeks to inspire women in business and bring them together to share personal experiences and give practical help to allow female entrepreneurs achieve their full potential."

Ahead of the event, Royal Bank will be crowdsourcing questions to find out what you'd like to learn from the discussion.

Tickets are free and include complimentary refreshments. To reserve your space visit and learn more about the event, click here.
We're now NatWest Group
Come and visit us for all our latest news, insights and everything NatWest Group.