Final flight for flying banker
A Royal Bank of Scotland employee who has flown almost 12,000 trips around the Orkney islands is celebrating retirement after 31 years as the UK's only full-time 'flying banker'.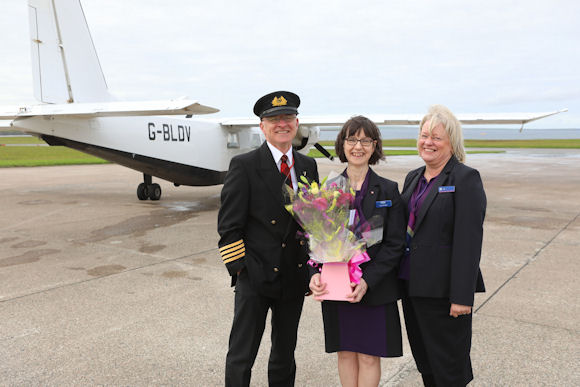 Anne Rendall has supported communities across the archipelago of Orkney since May 1988 travelling between seven different islands by air or ferry.

Clocking up more than 11,500 journeys on Loganair's eight-seat Britten Norman Islander, which provides the Orkney Inter-Isle air service, Anne helps Royal Bank of Scotland customers in local community branches based on the small islands of South Walls, Westray, Sanday and North Ronaldsay.

Anne serves around 40 to 50 customers during each visit, from crofters to fishermen to those in the tourist industries.

She is only the second person to have held this exclusive role, taking over from Maisie Muir who started the flying service in 1969. Prior to that a banking boat, known as the Otter Bank and skippered by Anne's great uncle, docked at each of the islands.

Officially recognised for her service, Anne was awarded an MBE in 2010 and has worked for the bank for 43 years, serving customers at the branch in Kirkwall before she took on the flying banker role.

Her farewell flight was the 15-minute journey from Westray to Kirkwall, piloted by long-serving Captain Colin McAllister. The aircraft was met with a water cannon salute by the airport's fire brigade and Anne was presented with retirement gifts and a Loganair membership card entitling her to two free return tickets and unlimited ticket upgrades whenever she travels.

As Anne left the final flight of her career she was met by Liam McArthur MSP, Bill Spence, Lord-Lieutenant of Orkney, her Kirkwall branch colleagues, Loganair and airport employees – who gave Anne a guard of honour as she walked to the terminal.

Holding a passion for tracking family histories, Anne continues to be an active member of the Orkney Family Historical Society and looks forward to travelling for pleasure during her retirement, including a trip to Antarctica next year.

Another resident of Orkney, Lois Canning, who joined Royal Bank of Scotland in 2005 has been appointed to the role. Lois lives on the island of Shapinsay and takes the ferry to work every day. She is currently a personal banker in the Kirkwall branch.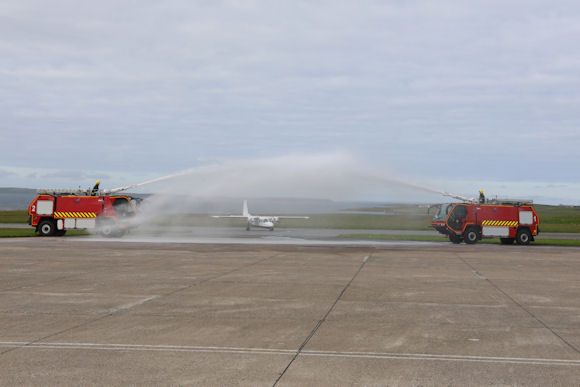 Managing Director for The Royal Bank of Scotland Simon Watson said: "Anne occupies a unique place in our history as the face of the Royal Bank across the Orkney islands for the past 31 years. We are incredibly grateful for the excellent personal service she has given our customers in Orkney, where she is very much a part of the community. Anne is part of the bank's rich heritage that over the years has seen us travel by air, boat and road, through our mobile banks and network of community bankers, to meet the needs of customers."

Operated by Loganair since 1967, the Orkney Inter-Isles Air Service connects seven Orcadian islands and includes the 1.7mile hop between Westray and Papa Westray which is officially recognised by Guinness as the world's shortest scheduled airline service.

The duration is officially two minutes, but under ideal wind conditions can be completed in less than a minute.

Jonathan Hinkles, Loganair's managing director said: "Anne has been a valued Loganair customer for over 30 years and is officially our most frequent flyer. I'd like to congratulate her for such a successful career and look forward to welcoming her onboard again soon. The Orkney Inter Isle service is one of the most unique air networks in the world, linking local communities, but also connecting them to the rest of the world."

Orkney MSP Liam McArthur said: "Anne has provided an outstanding service to some of Orkney's most remote island communities, where she has brought a wealth of experience and a friendly face to an incredibly important role.

"It says much about the contribution that Anne has made over the years that she is held in such high regard and affection by those living and working in the communities she has served. For someone in the banking sector, this is no small achievement! I wish Anne the very best for her retirement and thank her for all her hard work and dedication over the last three decades."
We're now NatWest Group
Come and visit us for all our latest news, insights and everything NatWest Group.