NatWest North West PMI® - May 2019
North West activity growth eases as new business declines slightly in May.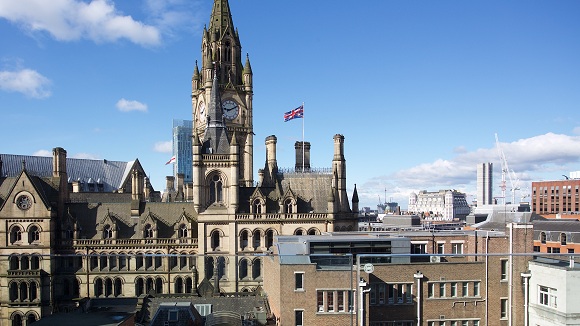 According to the latest NatWest PMI® report, businesses in the North West of England saw a renewed fall in new orders in May, leading to a softer rise in activity and employment levels. Input prices increased at the weakest rate since April 2018, encouraging firms to raise their selling prices only modestly.
The headline NatWest North West Business Activity Index – a seasonally adjusted index that measures the change in the combined output of the region's manufacturing and service sectors – fell from 55.2 in April to 53.0 in May, signalling a solid but softer expansion of output at North West firms.
The rate of growth was the weakest in six months, as some firms eased back on activity due to falling new business levels. Nevertheless, the upturn was still notably stronger than the average seen across the UK as a whole.
Demand for goods and services in the North West fell in May. As a result, the latest survey data recorded the third monthly drop in new orders in the year-to-date, albeit the softest seen so far.A number of manufacturing firms found that customers decided to use up stockpiles rather than increase their purchases. Meanwhile, services firms that reported a fall attributed this to further uncertainty harming business investment.
With new orders declining, North West firms expanded their workforce numbers only slightly in May. The rate of growth dipped to the joint-lowest in the past 13 months and fell in line with the UK average. Some panellists hired new workers to increase their market share, whereas others reduced labour because of less demand. Nevertheless, rising output and staff levels meant that backlogs fell solidly during the month.
Again, businesses reported a sharp increase in overall input costs in May, specifically noting higher fuel charges and a weaker exchange rate. That said, the rate of inflation eased to the softest since April last year.
Concurrently, panel members raised their output prices midway through the second quarter. The pace of increase was modest and one of the slowest seen across the UK, but slightly stronger than in the previous month.
Looking ahead, future output expectations dipped in May, albeit still projecting a positive outlook in the region. Firms based their positivity on improving market shares amid weaker investment from competitors. At the same time, some businesses continued to note a drag from Brexit uncertainty on sentiment.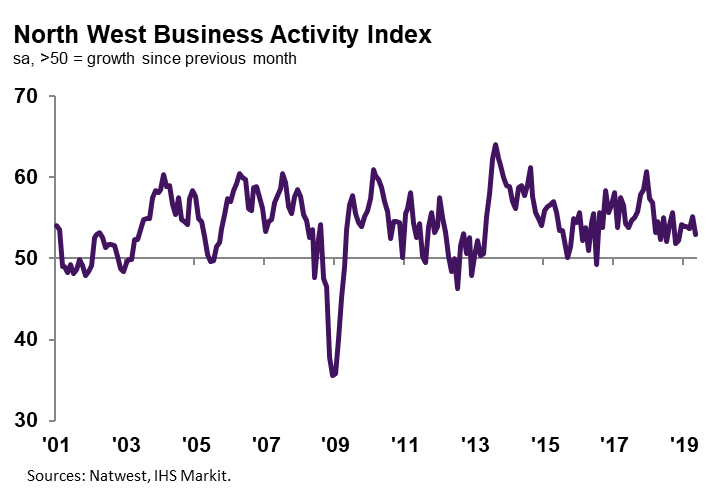 Richard Topliss, Chair, NatWest North Regional Board, commented: "North West firms remain upbeat in May, maintaining a solid, albeit slower, rate of output growth despite a renewed decline in new business across the region. As noted by anecdotal evidence, some businesses are seeing customers cut back on orders as they use up stockpiles gathered before the Brexit delay. Thus, firms appear positive that demand will recover soon, especially as downturns in earlier months this year were short-lived. Elsewhere, output prices rose at a faster pace than in April, albeit partly due to higher input cost inflation amid a weakening exchange rate."
Natwest economist Nick Stamenkovic, added: "New orders weakened in May as manufacturers reduced inventories. Accordingly, business activity softened and employment moderated last month though it remains in positive territory".
Download the full report here [PDF 764KB]
We're now NatWest Group
Come and visit us for all our latest news, insights and everything NatWest Group.