NatWest North East PMI® - May 2019
After seeing business activity rise for the first time in eight months in April, the North East private sector returned to contraction in May, according to the latest NatWest PMI® survey.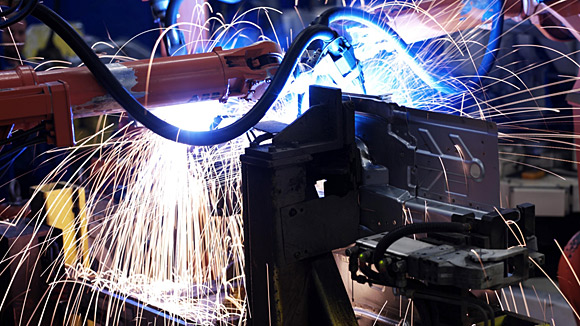 A modest fall in output of goods and services across the region coincided with a further decrease in employment, with business confidence also weakening.
More positively, the recent sharp squeeze on company margins showed further signs of easing, as costs rose at the slowest rate for two years.
The headline NatWest North East Business Activity Index – a seasonally adjusted index that measures changes in the combined output of the region's manufacturing and service sectors – registered 48.9 in May, down from an eight-month high of 50.3 in April and back below the 50.0 mark that separates growth from contraction.
Across the UK as a whole, the picture remained one of subdued growth. The strongest performing areas were Yorkshire & Humber and the North West.
Firms in the North East reported lacklustre demand for goods and services in May. New orders were broadly unchanged, failing to build on the increase seen in April, which was the such rise in nine months. Uncertainty among businesses continued to be a factor undermining demand, according to anecdotal evidence.
There remained a lack of pressure on business capacity across the North East private sector, as highlighted a sustained decrease in backlogs of work. Moreover, the rate of clearance was the quickest seen for three months.
Efforts by local companies to scale back operations saw regional private sector employment fall for an eleventh straight month in May, with data showing job losses across both manufacturing and services. That said, the extent of the overall decrease in workforce numbers was the least marked since November last year.
Though firms in the North East faced higher costs in May, linked in large part to wage pressures, the overall rate of inflation was at a two-year low and weaker than the average since the start of the series in 2001. Anecdotal evidence highlighted the influence of lower raw materials, including a number of metals.
Firms continued to pass on part of the burden of higher costs in the form of increased charges for goods and services. Output price inflation ticked up to a four-month high in May, although remained well below that of input costs.
Finally, May saw a dip in business confidence regarding future activity, which arrested a sequence of improving optimism seen since the record low in December 2018.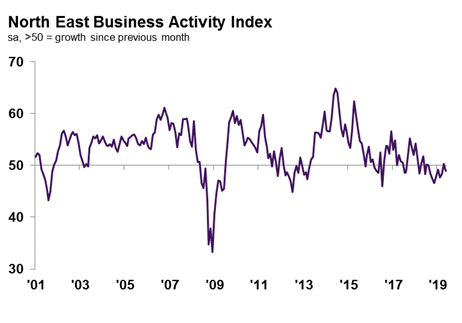 Richard Topliss, Chair, NatWest North Regional Board, commented: "North West firms remain upbeat in May, maintaining a solid, albeit slower, rate of output growth despite a renewed decline in new business across the region. As noted by anecdotal evidence, some businesses are seeing customers cut back on orders as they use up stockpiles gathered before the Brexit delay. Thus, firms appear positive that demand will recover soon, especially as downturns in earlier months this year were short-lived. Elsewhere, output prices rose at a faster pace than in April, albeit partly due to higher input cost inflation amid a weakening exchange rate."
Natwest economist Nick Stamenkovic, added: "New orders weakened in May as manufacturers reduced inventories. Accordingly, business activity softened and employment moderated last month though it remains in positive territory".
Download the full report here [PDF 219KB]
We're now NatWest Group
Come and visit us for all our latest news, insights and everything NatWest Group.