NatWest Northern Powerhouse PMI®
Northern Powerhouse cements its place as Growth Leader for the UK economy.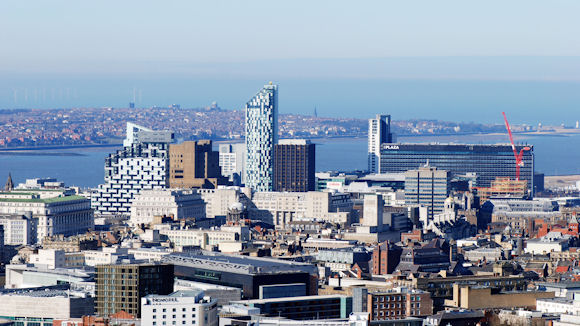 Today sees the release of the new NatWest Northern Powerhouse PMI®. The survey, produced in partnership between NatWest and IHS Markit, is based on responses from manufacturers and services companies across the regions of the Northern Powerhouse.
The NatWest Northern Powerhouse PMI® (Purchasing Managers' Index®) reveals that private sector companies across the region remained on a growth footing this spring, with a solid expansion of business activity and improved order books in April contrasting with subdued conditions elsewhere in the UK.
Northern Powerhouse private sector output growth hit a seven-month high in April and exceeded that seen across the rest of England, Scotland, Wales and Northern Ireland.
Business Activity
The headline NatWest Northern Powerhouse Business Activity Index – a seasonally adjusted index that measures the change in the combined output of the region's manufacturing and service sectors – posted 53.5 in April, to remain above the crucial 50.0 no-change value and continuing a run of growth that stretches back to August 2016. The latest index was up from 52.3 in March and the highest since September 2018. Any figure above 50.0 indicates expansion.
The region has exceeded the equivalent UK-wide figure in each of the past six months.
Manufacturing
A robust contribution from the manufacturing sector provided a key support to Northern Powerhouse output in April. Manufacturing output expanded at one of the fastest rates seen since 2017, although some of the uplift reflected stockpiling efforts and a temporary boost to sales from Brexit contingency plans. In March, manufacturers had reported survey-record rises in both their stocks of purchases and post-production inventories amid efforts to avoid supply chain disruption.
The underlying picture for manufacturing sales picked up in April, helped by the strongest rise in new export orders since December 2018. In addition, optimism about production growth rebounded to a 13-month high, partly driven by hopes of more clarity regarding the path to Brexit.
New orders
New order growth was still subdued relative to warehouse inventories, meaning that the unwinding of Brexit stockpiling could act as a drag on growth in the second half of 2019. Goods producers also reported concerns about weaker global trade flows as ongoing US-China trade frictions continued to cast a shadow over international supply chains.
Turning to new orders across the Northern Powerhouse economy as a whole, latest data indicated a return to growth after the soft patch seen in March. The rebound contrasted with a sustained decline in new business levels across the UK as a whole, which survey respondents linked to domestic political uncertainty and consequent delays with corporate decision-making.
Employment
Job creation at Northern Powerhouse firms was only modest in April and eased slightly since the previous month. The region still outperformed the UK as a whole, with companies linking staff hiring to long-term expansion plans and new product launches.
Cost inflation
Operating expenses have increased sharply over the past two-and-a-half years amid rising imported raw material costs and stronger pay pressures. However, the rate of cost inflation softened in April and was far below the peak seen during 2017. Lower cost inflation and competitive pressures led to the slowest rise in prices charged by Northern Powerhouse businesses since July 2016.
Business confidence
Latest data signalled a rebound in business confidence after Brexit-related concerns took their toll on optimism in March, with confidence hitting its lowest point for over six years. Business expectations across the region hit a six-month high and moved back above the UK-wide benchmark during April.
Commentary
Richard Topliss, Chairman, NatWest North Board, said: "With our political processes in gridlock and our future relationship with key European trading partners shrouded in uncertainty, I had expected intuitively that the performance of the Northern Powerhouse economy would be showing negative trends with little to suggest improvement any time soon.
"For sure, automotive retail sales have slowed markedly, steel producers are facing a very tough market, some retailers are struggling as shoppers move online and tensions in global trade relations should not be overlooked, but the Northern Powerhouse economy has by many measures displayed a strong performance relative to other parts of the UK.
"With business confidence strong, growth in the workforce, rising manufacturing output and improving order books, the creative talent, resourcefulness and determination of Northern Powerhouse businesses has defied gloomy predictions and turned in remarkable results so far in 2019.
"However, we cannot ignore the fact that the prevailing uncertainty both domestic and international shows few signs of clearing in the near future. Its impact is hard to predict but we should take comfort from the resilience our economy continues to display."
Sebastian Burnside, NatWest Chief Economist, commented: "The UK economy beat expectations in Q1 this year with GDP expanding by 0.5% in the quarter, meaning that output is now 1.8% higher than a year ago. But the Northern Powerhouse economy looks to be performing even more strongly judging by the reports from businesses in this research.
"Such strength is being translated into greater opportunity. There are 42,000 more people in work today across the regions of the Northern Powerhouse than there were a year ago. Job creation on this scale has pushed unemployment down to 4.4%, lower than even the fastest growing periods of the 90's and 2000's. As competition for workers heats up, so has wage growth.
"A further boost has come from subdued inflation, now down close to the Bank of England's target of 2%. All this adds up to a great start to the year for consumers and for the businesses who are giving them what they want.
"It's likely to have been a good start to the year for new entrepreneurs in the region too. Business start up rates have been rising, led by the explosive growth of new firms being created in the North West, up almost 80% in 5 years.
"Brexit uncertainty means we can't know what twists and turns politics and economics will take during the rest of 2019, but it is encouraging to see the strength and optimism in the Northern Powerhouse economy shining through."
Commenting on the findings, Emma Degg, Chief Executive, North West Business Leadership Team, (NWBLT), said: "The fact that businesses in the North remain on a growth footing, with improved order books this Spring, is not just good news for this part of the UK. The country's exporting ambitions – regardless of Brexit outcomes – rely on securing continued growth 'up North'.
"The recent boost in economic activity is, of course, partly due to stockpiling from business contingency planning, and it would be imprudent to gloss over this. If current growth is to continue, renewed efforts must be made across all sectors to invest in the things that will secure the continued competitiveness of businesses in an uncertain global market place.
"For us perhaps the most positive message in the report is that respondents regard investment in new technology as a key focus for the future."
Lord Jim O'Neill, vice chair of the Northern Powerhouse Partnership, said: "If you consider the same PMI data in the context of the past five years, and particularly the past three, the Northern Powerhouse has begun to outperform London.
"For the Northern Powerhouse to be a success it must sit at the heart of the UK's international connections and export relationships. In terms of connectivity we can see through Manchester Airport's direct flights to China and £1 billion investment in its terminal the north is placing itself in prime position to attract foreign investment.
"Similarly, ABP's investments in Hull and Immingham have seen shipments originally intended for Dover moved to the north. Sirius Minerals' investment in its fertiliser mine on the Yorkshire coast will not only transform the local labour market but will add a significant sum to the UK's export figures. To build on this success, further work still needs to be done, particularly in the area of connectivity…not only will this improve the experience for those visiting, it will hugely improve the ability for the people living here to move around more easily and access a greater range and number of employment opportunities."
Richard Carter, Managing Director, BASF, UK and Ireland, said: "The outlook for our customer industries, and therefore for us, is currently clouded by unprecedented uncertainty.
"However, where there are challenges there are also huge opportunities and innovation is key. And the North is well positioned to benefit from this.
He added; "Enterprise partnerships must work effectively with each other to help the North to fulfil its potential: silo thinking is yesterday, collaboration is the model of today."

Read the full NatWest Northern Powerhouse PMI®.
NatWest West Midlands PMI® - March
According to the latest NatWest PMI® report, business conditions in the West Midlands private sector remained subdued in March, in line with the picture seen across the first quarter of the year.
We're now NatWest Group
Come and visit us for all our latest news, insights and everything NatWest Group.