NatWest West Midlands PMI® - March
According to the latest NatWest PMI® report, business conditions in the West Midlands private sector remained subdued in March, in line with the picture seen across the first quarter of the year.
Uncertainty around Brexit reportedly led to some hesitancy among clients to commit to orders, although business confidence data improved amid hopes that the picture will become clearer soon. One key positive from the latest survey was a pick-up in the rate of job creation to a five-month high.
The headline West Midlands Business Activity Index – a seasonally adjusted index that measures changes in the combined output of the region's manufacturing and service sectors – posted 50.9 in March, down from 52.0 in February and signalling only a slight monthly rise in business activity. This represented a more positive picture than was seen across the UK as a whole, however, where output was unchanged in March.
Some panellists linked higher activity to new order growth, while others reported stockpiling ahead of Brexit. There were contrasting trends at the sector level, with manufacturers seeing production increase while service providers recorded a drop in activity.
Similar to the trend in business activity, new orders rose at a modest and reduced pace in March. Customer stockpiling supported growth in some cases, but other respondents indicated that Brexit uncertainty had led to a reduction in new work.
West Midlands companies increased their staffing levels at a solid rate that was the fastest in five months at the end of the first quarter. In fact, the pace of job creation was the joint-fastest of the 12 monitored UK regions, equal with the North West.
Increased operating capacity combined with relatively modest new order growth meant that firms were able to work through outstanding business again in March. Backlogs of work have now decreased in each of the past eight months.
Having been relatively muted in recent months, business confidence showed signs of picking up. Although Brexit uncertainty continued to weigh on sentiment, predictions of a more certain position in coming months and new order growth helped see optimism reach a ten-month high.
The rate of input cost inflation softened for the sixth consecutive month in March and was the weakest since June 2016. The pace of increase in output prices also eased, but remained solid and broadly in line with those seen throughout the rest of the first quarter of the year. West Midlands companies raised charges at a faster pace than the UK average.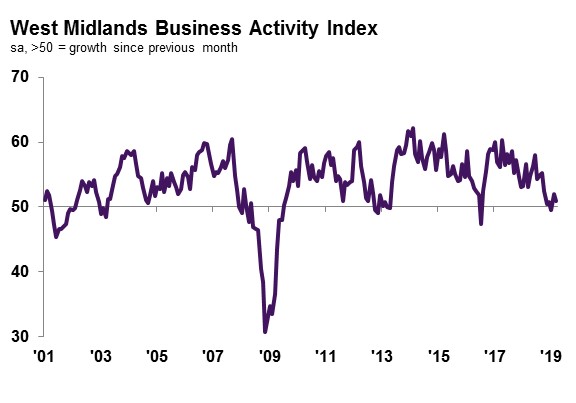 John Maude, NatWest Midlands & East Regional Board, commented:
"The West Midlands economy is in 'wait-and-see' mode at present as business waits for some clarity around Brexit and customers were hesitant to commit to new projects in March. More positively, firms took on extra staff at a solid pace and business confidence improved amid hopes that some much needed certainty will be provided soon."
Download the full report here [PDF 325KB]
NatWest
PMI
2019
Location
Midlands
We're now NatWest Group
Come and visit us for all our latest news, insights and everything NatWest Group.