NatWest East Midlands PMI® - March
According to the NatWest East Midlands PMI®, business activity continued to increase in March, albeit at the slowest pace since July 2016.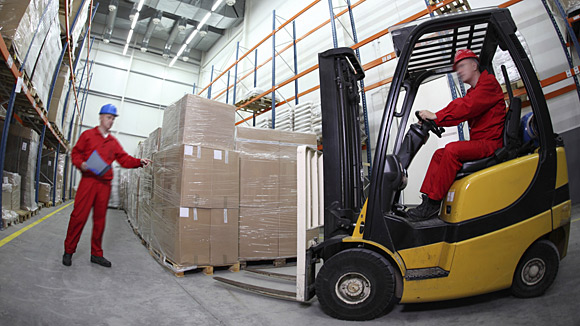 The rate of new business growth also eased to a moderate pace amid Brexit uncertainty. Nonetheless, there was still evidence of pressure on capacity as backlogs increased for the second month running and the rate of job shedding was only fractional. Business confidence, meanwhile, strengthened in March. Input price inflation remained marked and output charges increased at an accelerated pace.
The headline East Midlands Business Activity Index – a seasonally adjusted index that measures the combined output of the region's manufacturing and service sectors – posted 52.0 in March, down from 54.1 in February, signalling a moderate expansion in output. Firms linked the rise to stronger client demand and stockpiling activity in the lead up to Brexit. The East Midlands registered one of the fastest expansions over the last three months across the 12 monitored UK regions. That said, the latest increase was the slowest since July 2016.
New business received by private sector firms rose modestly in March. The pace of growth eased from that seen in February and was the second-slowest since July 2016. The upturn in new orders was largely linked to stockpiling activity among clients, but Brexit uncertainty reportedly weighed on overall demand. Nevertheless, the East Midlands was one of only four regions to register a rise in new business (alongside Wales, the West Midlands and the South East).
On the price front, input costs continued to rise at a marked rate, despite inflation easing to a three-month low. The increase in input prices was attributed to higher raw material and wage costs. The rise in cost burdens was faster than the UK average.
In contrast to a slower rise in input costs, the rate of output charge inflation picked up in March. The strong rise in output prices was commonly linked to the pass-through of higher cost burdens and was the sharpest seen across the UK.
Despite a slower rise in new business, private sector firms in the East Midlands registered a further increase in outstanding business.
That said, companies noted another monthly decrease in employment in March. The fall was only fractional overall.
Output expectations across the East Midlands strengthened in March, despite being historically muted. Moreover, the degree of optimism was the strongest of the 12 monitored UK regions.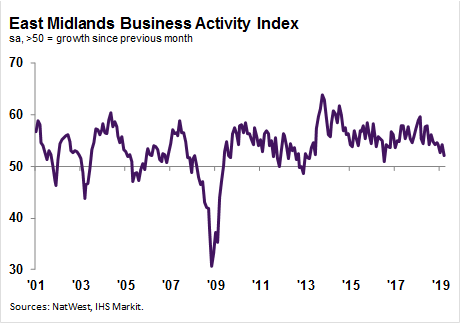 John Maude, NatWest Midlands & East Regional Board, commented:
"Output continued to grow across the East Midlands in March, bucking the trend of stagnation seen across the UK as a whole. That said, the rate of expansion was the slowest since July 2016 as the upturn in new orders moderated. Stockpiling among clients reportedly drove the latest increase in demand, but clients exhibited hesitancy in purchasing due to Brexit uncertainty. Less assured customer demand led to another month of subdued output expectations towards the year ahead.
Meanwhile, input price inflation remained elevated. Firms were, however, able to partly pass-through higher costs to clients as output charges rose at a quicker pace. Furthermore, the rate of output price inflation was the fastest of the 12 monitored UK regions."
Download the full report here [PDF 253KB]
NatWest
PMI
Midlands
2019