Rugby legend Doddie Weir visits Royal Bank of Scotland's historic home as bank offers some Christmas cheer to Scottish charities
Former Scotland rugby international and British Lions' star Doddie Weir dropped in on Royal Bank of Scotland employees in Edinburgh to receive cheques for two charities close to his heart.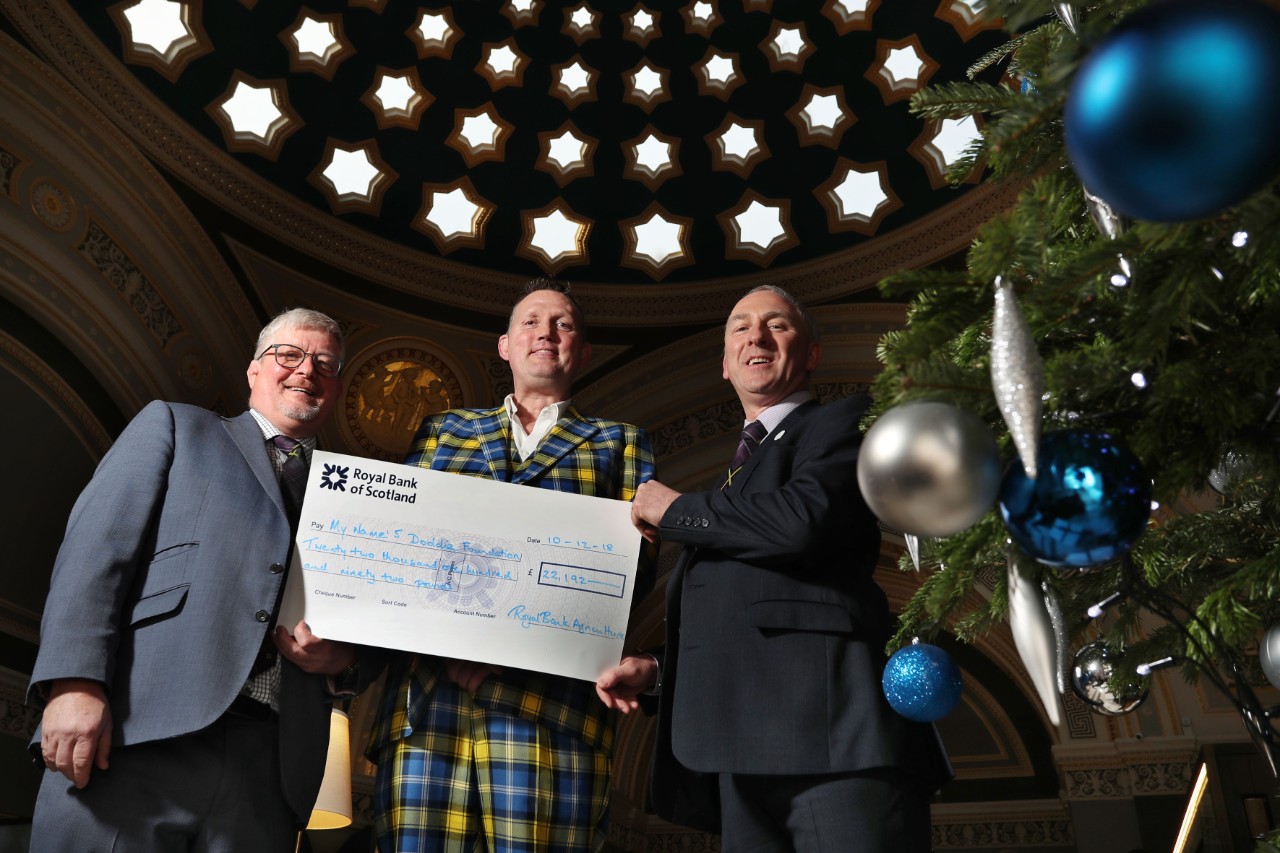 RBS employees raised more than £40,000 for Doddie Weir's charity 'My Name'5 Doddie Foundation' and for farming assistance charity, the RSABI. In St Andrew Square, Doddie joined RSABI's Paul Tinson to pick up the Christmas gifts.

Doddie, who suffers from Motor Neurone Disease, comes from a farming family and Royal Bank's Scottish agricultural team decided to host a gala sporting dinner in the run up to the festivities to raise money for each organisation.

Picking up the cheques from Royal Bank of Scotland's Brian Murphy and Roddy McLean, Doddie said:

"I'm grateful and touched that bank staff have helped raise money for My Name is Doddie and the RSABI.

"I know the impact the RSABI makes to people in the rural sector and, through my own condition, I know how important it is to help support research into MND and those affected by it.

"I'm thankful for everyone's support."

The gala dinner marks a year of fundraising by Royal Bank of Scotland for Scottish charities this year. Through the Royal Bank of Scotland Kiltwalk, staff helped raised £4.5m for more than 1150 Scottish charities, including the My Name'5 Doddie Foundation.

Over the last five years, Royal Bank of Scotland has raised more than £100,000 for the RSABI.

Paul Tinson of RSABI said: "Royal Bank of Scotland's agricultural team led by Brian Murphy worked tirelessly to host a magnificent Gala Sporting Dinner in September that celebrated the roles of both charities with sporting stars and companies and organisations from the wider agricultural industry.

"We are delighted to benefit alongside My Name'5 Doddie Foundation, with fantastic funds of £22,192 presented to each charity by Royal Bank of Scotland."

Brian Murphy, Director of Commerical Bank with Royal Bank of Scotland, added: "Everyone at Royal Bank of Scotland is delighted to have had the opportunity to assist both of these charities.

"Doddie's fundraising efforts are truly heroic and bank staff and our guests needed no prompting to dig deep to support such a worthwhile cause.

"Working in the agricultural sector often brings with it unknown or unseen difficulties and challenges and RSABI offers a helping hand to families and individuals who sometimes have nowhere to turn.

"We hope our fundraising helps make some degree of difference to these groups."

For more information on the My Name'5 Doddie Foundation, visit www.myname5doddie.co.uk. For more information about the RSABI, visit www.rsabi.org.uk
We're now NatWest Group
Come and visit us for all our latest news, insights and everything NatWest Group.