#YouAreTheNext
Prince's Trust launches campaign with NatWest to champion and spur on UK's next generation of entrepreneurs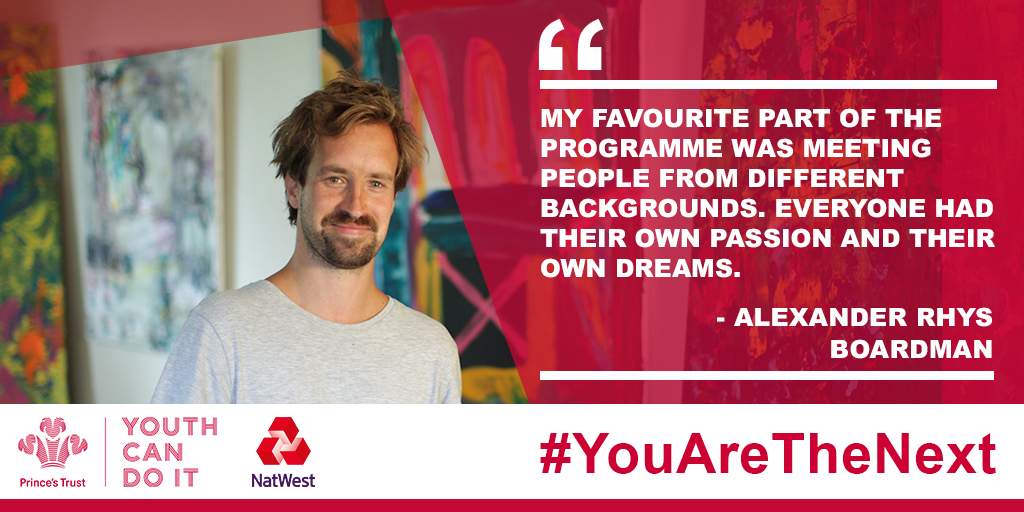 The Prince's Trust, the UK's leading youth charity, has launched a campaign with NatWest to encourage young people to believe in their ideas and set up in business.

Supported by NatWest, the #YouAreTheNext campaign features five successful Prince's Trust supported businesses in a film, spreading the message that young people already have the ideas needed to carve out their own success.
Each young person in the campaign has been supported through the Prince's Trust Enterprise programme, which works with 18-30 year olds to turn big ideas into business reality.

The campaign is backed by NatWest who, as the largest corporate supporter of the Enterprise programme, have been instrumental in supporting some of the UK's best and brightest entrepreneurs to move from an idea to a viable, flourishing business.

One of the entrepreneurs featured in the campaign film is 30-year-old Alexander Rhys Boardman, who knows first-hand the importance of encouragement from those who believed in him.

Alexander said: "I was lacking direction and felt completely lost before I came to The Prince's Trust. I suffer from obsessive compulsive disorder (OCD) and anxiety which meant I can find it difficult to cope with everyday life.

"Because of my OCD, I see things in a linear, structured way which actually helps me to create really strong visual images. I was able to find a creative outlet where my OCD could actually be turned into a positive. Painting has always been a way to express myself and I knew I had talent but until I came to The Prince's Trust I didn't know how to start a business or make a living from my art. I didn't even know if it was for people like me.

"It's quite scary to think about where I'd be without The Prince's Trust. I'd never had people believe in me before and, on top of that, they taught me so much. To think I now have my own business is incredible."

The Prince's Trust with the Help of NatWest, recently introduced Prince's Trust Online, which offers an online version of the programme to support young entrepreneurs; so whether it's face-to-face or online, the support is there however young people need it, to turn their ideas into reality and become their next boss.

Gordon Merrylees Managing Director, Entrepreneurship at NatWest said: "For the last 18 years we have worked in partnership with The Prince's Trust to create an environment that encourages and enables young people to develop their talents and ideas into sustainable businesses. Time and time again we see the transformative impact of someone believing in your idea and providing the necessary support systems to validate it, test it and develop it into a reality, and into a career.

Self-employment is an empowering opportunity for young people as whatever their background, they can carve out a new life for themselves by doing something they love and are great at, the world needs it and it can make a difference to people's lives."

To discover how The Prince's Trust helps thousands of young people a year into business, and learn more about The Trust-supported businesses already out there, visit princes-trust.org.uk/enterprise
Watch and share the #YouAreTheNext campaign film here.

We're now NatWest Group
Come and visit us for all our latest news, insights and everything NatWest Group.