Royal Bank of Scotland launches 100 Women event series
Royal Bank of Scotland launches series of events across Scotland to inspire, celebrate and connect women at all stages of their careers.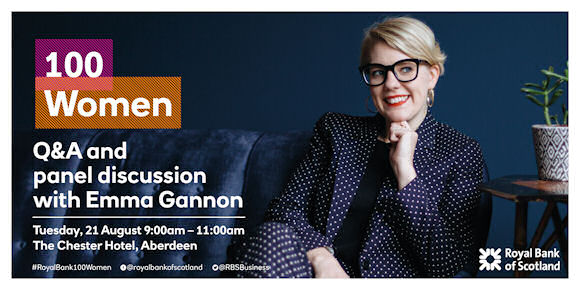 In a landmark year celebrating 100 years since women were granted the vote, Royal Bank of Scotland is bringing together Scotland's most inspiring, like-minded and motivated women at a series of four events across the country to encourage businesswomen to connect, support one another and thrive together.

Hosted by author of Ctrl, Alt; Delete and The Multi-Hyphen Method podcaster Emma Gannon, the series will travel to Aberdeen, Dundee, Edinburgh and Glasgow to celebrate and connect women at all stages of their careers.

Emma Gannon will be joined by an expert panel of local female business leaders at each event to offer their unique experience and guidance through a live panel discussion and Q&A with the audience.
100 Women is free to attend and will take place at:

• The Chester Hotel, Aberdeen (21 August)
• The Malmaison, Dundee (4 September)
• The Principal Edinburgh George Street, Edinburgh (5 September)
• Barras Arts and Design, Glasgow (6 September).

The events come on the back of a report commissioned by Royal Bank of Scotland and YouGov, which revealed that a third of the female microbusiness owners surveyed suffer from 'imposter syndrome' in regards to their microbusiness, a psychological pattern in which people doubt their accomplishments and have a persistent fear of being exposed as a 'fraud'.

Although they run their own successful companies, this high percentage of microbusiness owners have developed imposter syndrome which has also been experienced by Emma Gannon and many other female business women across Scotland.
Among several key findings, the report has identified a rising generation of female microbusiness owners, who are forward-thinking, socially savvy and use the online world to achieve success.

• 33% of female microbusiness owners surveyed are aged between 35-44.
• 46% of microbusinesses owned by women were set up in the past five years.
• 63% of female respondents believe innovation to be important for the future of their business (in comparison to 54% of male respondents).
• Female-led microbusinesses would go to the online community when seeking advice, with 46% using online forums and 35% using social media.
• Cybersecurity is one of the community's top priorities – 76% of female microbusiness owners regard it as important to their business (compared with 60% men).

Yvonne Greeves, National Women in Business Manager for Royal Bank of Scotland, said:
"At the Royal Bank of Scotland, we are passionate about supporting microbusinesses and doing our part to help microbusiness owners develop their own networks and meet their ambitions to thrive and succeed.

"Our research has shown that Scotland is a nation of hardworking, multitasking microbusiness owners who need more support, so these events will act as a stepping stone in the right direction for female business owners across the country.

"Our 100 Women events seek to inspire women in business and bring them together to give them the opportunity to discuss the ways in which they can support one another and thrive together."

Emma Gannon, Author and Podcast host, said:

"I'm extremely passionate about women of all ages finding increased freedom, motivation and autonomy at work. The Internet has made it easier to launch brilliant businesses in new ways, but building an in-real-life community has never been so important. These communities help build confidence and knowledge, whether you're in a company, side-hustling or starting your own new business. It's an exciting time to be an entrepreneur and to be surrounded by other inspirational female business owners."

For more information on the events or to book your place, please visit the link below:
• Aberdeen
• Dundee
• Edinburgh
• Glasgow