Helping transform South Wales into a new tech hub
Amplyfi, one of the businesses at NatWest's Entrepreneur Accelerator in Cardiff, is among a number of young businesses helping to transform South Wales into a new tech hub.
Amplyfi is a start-up company which harvests data from the web to uncover emerging threats to a business and new opportunities they might be able to hone in on.
CEO and co-founder Chris Ganje is a US entrepreneur who moved from London to Cardiff to tap into local university talent in his quest to build the company. Moving to Cardiff less than a year after founding the company in 2015 was an unusual choice for a tech start-up. Chris said: "A lot of the London and Silicon Valley investors said it was a mistake, and I did momentarily reflect on the decision, but I ultimately decided we would do very well if we moved. And it was one of the best decisions we made."
Budding innovation ecosystem
Chris realised that the success of his business would lie, in many ways, with the people behind it, and moving to Cardiff was a highly strategic decision. He said: "We needed to have access to the best students out of world-class universities, and we didn't want a lot of competition for that brilliant talent. We also saw in Cardiff a really exciting, budding innovation ecosystem."
Learn from other entrepreneurs
Amplyfi is a fast-moving start-up, and it's something that Chris enjoys. He says the best part of being a business owner is it gives you the freedom to make a decision when you see an opportunity – something missing from most corporate environments. He also enjoys telling ambitious newcomers about what he's learned. He says that gleaning information from entrepreneurs is one of the smartest things that new business owners can do.
For his own part, Chris says that Amplyfi flourished as a result of a NatWest accelerator programme: "It was a major turning point in the company's journey."
The NatWest Entrepreneur Accelerator is the UK's largest free business accelerator network and is capable of supporting 1,000 entrepreneurs simultaneously in its 12 hubs based throughout the country.
NatWest has created two distinct growth and accelerate packages which focus on the key driver to success – the entrepreneur. The Acceleration programme is a 6 to 18 month programme for entrepreneurs with high growth businesses looking to scale up. The Pre-Acceleration programme is an intensive, 12-week programme for up to 50 early stage start ups.
Find out more about the NatWest Entrepreneur Accelerator.
Posted in
Supporting small businesses
Start up
Savings accounts
2018
NatWest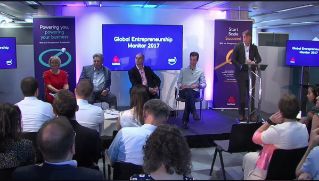 Global Entrepreneurship Monitor 2017 UK Report
Sponsored by NatWest, the Global Entrepreneurship Monitor is the largest and most comprehensive study on entrepreneurship globally, collecting data on entrepreneurial activity in 54 countries, covering two-thirds of the world's population.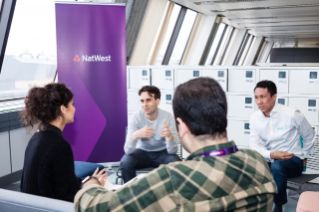 We're now NatWest Group
Come and visit us for all our latest news, insights and everything NatWest Group.