Positive and progressive: our commitment to the LGBT agenda
Hear from Marjorie Strachan, Head of Inclusion, on what RBS is doing to support the LGBT agenda this year.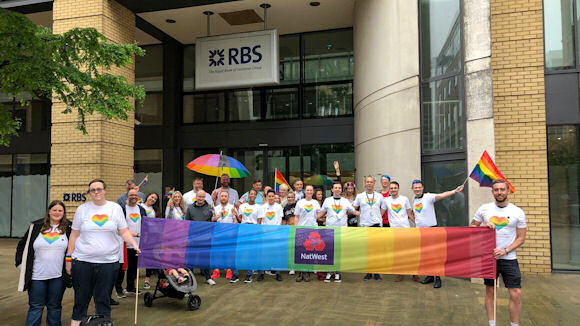 At RBS we are determined to be a fully inclusive bank for all of our colleagues and our customers. We want to ensure that our LGBT+ colleagues and customers feel welcome and accepted for who they are.
As the only Financial Services organisation to have spent the last 10 years within Stonewall workplace equality index, we are proud of the work undertaken to date, however, we know our evolving workforce and customers require us to remain innovative, disruptive and progressive.
So what are we doing?
In March we joined the UN's LGBTI Standards of Conduct – these global standards are designed to help businesses promote equality for lesbian, gay, bi, trans and intersex (LGBTI) people in the workplace and beyond. The standards send a powerful message not only to our bisexual, gay, lesbian and transgender colleagues and customers, but also to the wider community, that there is no room for discrimination on the grounds of sexual orientation or gender identity.
In April we participated in Digital Pride – an online LGBT+ event consisting of a week of events, videos and debates. We led a global discussion on the relevance of allies, role models and labels in the modern workforce.
Summer is almost upon us, which means that Pride season is just around the corner. This year as a bank we're joining a record number of Pride events; 17 no less. From the traditional UK Pride strongholds of London, Manchester, Brighton and Glasgow to supporting more local Prides in Rotherham and Norwich.
We're also committed to ensuring we represent our global workforce, and so we'll be attending Pride in Delhi and Chennai, India and Warsaw, Poland as well.
Come and join us at a Pride event this summer!

Posted in
Blog
Diversity & inclusion
2018
We're now NatWest Group
Come and visit us for all our latest news, insights and everything NatWest Group.