One third of female Scottish microbusiness owners surveyed suffer from 'imposter syndrome'
A new survey from Royal Bank of Scotland takes a detailed look at the realities of running a microbusiness in Scotland.
Royal Bank of Scotland's Microbusiness Index reveales that a third (33%) of the female microbusiness owners surveyed suffer from "imposter syndrome" in regards to their microbusiness, a pattern in which people doubt their accomplishments and have a persistent fear of being exposed as a "fraud". Although they run their own successful companies, this percentage of female microbusiness owners identify as having imposter syndrome and feelings of anxiety, nervousness and discomfort.
Microbusinesses, which make up 94% of Scottish Businesses, are defined as businesses which employ nine employees or less and, on average, generate less than £500K per year. The data from the Royal Bank of Scotland Microbusiness Index, conducted by YouGov, looks at the state of the microbusiness landscape and the day to day realities for male and female owners across Scotland.
Amongst several key findings, the report has identified a rising generation of female microbusiness owners who are forward-thinking, socially savvy and using the online world to achieve success.
A third (33%) of female microbusiness owners surveyed are aged between 35-44.
46% of microbusinesses owned by women were set up in the past five years.
63% of female respondents believe innovation to be important for the future of their business (in comparison to 54% of male respondents).
Female-led microbusinesses would go to the online community when seeking advice, with 46% using online forums and 35% using social media.
Cybersecurity is one of the community's top priorities – 76% of female microbusiness owners regard it as important to their business (compared with 60% men).
The report has also brought to light some of the challenges facing microbusiness owners as a whole, with almost half (44%) not taking a day off sick in the last year. This is compared with 4.3 days per year for the UK average worker (Office of National Statistics 2016).
The Scottish microbusiness owners surveyed were shown to be some of the most hardworking in the country with 35% of those surveyed working more than the traditional five-day week and 35% logging in for over eight hours a day.
The findings also suggest that there are still significant barriers and sources of worry facing microbusiness owners and women in particular who are more worried than men across all categories, from balancing work and family commitments to managing stress and anxiety at work.
Royal Bank of Scotland believes that these stats show that this generation needs more support to continue their work with many owners getting by on their individual skills and the support of friends and family. In particular, it recognises that support networks are vital in providing tangible and intangible support for microbusinesses.
Paula Ritchie, Head of Business Development Scotland for the Royal Bank of Scotland, said: "At the Royal Bank of Scotland, we are on the side of microbusinesses. The insights contained within this report have helped us to further develop our offering so we can help microbusinesses meet their ambitions and accelerate growth in innovative ways.
"Our research shows that Scotland is a nation of hardworking, multitasking microbusiness owners who need more support to continue to grow and thrive. The rise of female-led microbusiness is particularly striking and something which should be celebrated.
"The report highlights the importance of building reliable support networks. As part of this, we will host a series of events across Scotland which will bring together 100 female-led microbusinesses in Glasgow, Edinburgh, Aberdeen and Dundee and will offer unique experience and guidance as well as helping women to build those networks which are so important.
"As the biggest supporter of businesses in Scotland, the Royal Bank of Scotland is constantly investigating how it can support this important community of businesses and develop services that are tailored to their unique business needs".
For more information download the full Royal Bank of Scotland Microbusiness Index.
Posted in
Supporting small businesses
Scotland
Diversity & inclusion
Business banking
Start up
2018
The Royal Bank of Scotland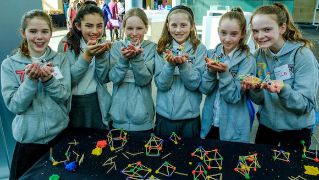 We're now NatWest Group
Come and visit us for all our latest news, insights and everything NatWest Group.