NatWest North East PMI® report - May
North East achieves fastest output growth since January, but cost pressures intensify.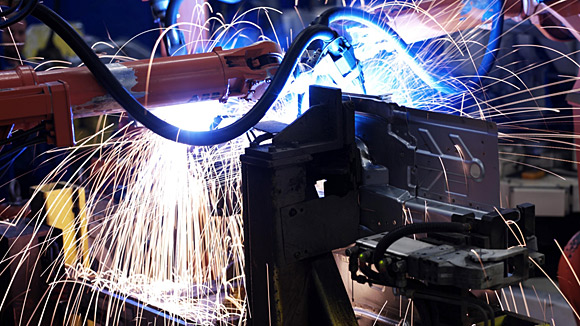 May data from the NatWest Purchasing Managers' Index® (PMI® )revealed a modest upturn in business activity across the private sector economy, suggesting a sustained recovery from the weather-related disruptions seen earlier in 2018. However, the latest report, compiled for NatWest by IHS Markit, indicated a setback for new order intakes, linked to subdued consumer spending. Employment numbers remained broadly unchanged, with rising input costs and a lack of pressure on operating capacity the main factors holding back staff hiring.
The headline NatWest North East Business Activity Index – a seasonally adjusted index that measures changes in the combined output of the region's manufacturing and service sectors – registered 51.8 in May, up from 50.4 in April and the highest reading for four months.
Sector data suggested that rising manufacturing production in the North East helped to offset subdued service sector business activity. That said, the overall rate of private sector growth in the North East continued to lag behind the UK as a whole (equivalent index at 54.5 in May).
In contrast to the stronger trend recorded for business activity, latest data highlighted a renewed fall in new work received by companies based in the North East. A number of businesses in the region cited stretched household finances and a corresponding moderation in consumer spending in May.
Manufacturing remained a bright spot for the North East, according to the latest survey data. The upturn in order books at manufacturing firms was driven by improving business conditions in key export markets and rising global demand for capital goods.
North East firms reported another sharp reduction in work-in-hand (but not yet completed) during May, which suggested a lack of pressure on existing business capacity. At the same time, staffing levels were virtually stagnant during the latest survey period, which echoed the subdued employment trends recorded across the UK as a whole.
Average cost burdens increased at a sharp and accelerated pace in May. Moreover, the rate of input price inflation was stronger than the UK-wide trend. Survey respondents widely commented on rising fuel bills and greater staff wages, especially for employees close to the National Living Wage threshold. Despite higher costs, prices charged by North East firms increased at the slowest rate for seven months.
The main positive finding from the latest survey was a rebound in North East business expectations to the highest since March 2016. Manufacturers cited new product launches and plans to boost export sales, while service providers noted hopes of improved operating efficiency and a rebound in consumer demand.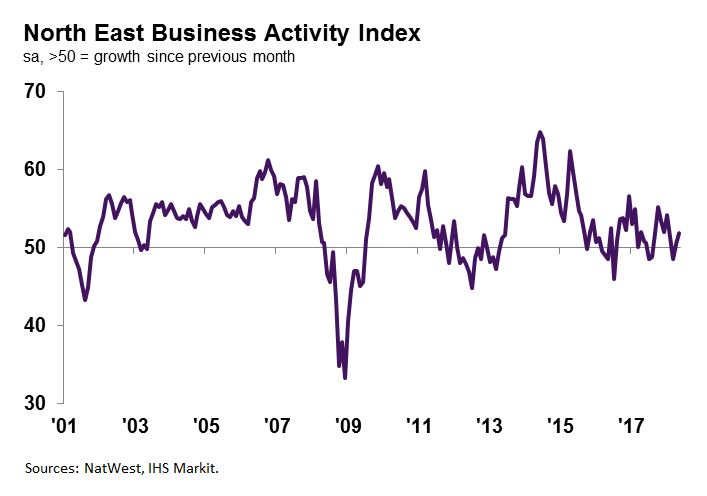 Richard Topliss, chair of NatWest's regional board in the North East, said:
"NatWest North East PMI data reveals that businesses achieved their strongest rate of output growth since the start of 2018, helped by a degree of catch-up from the weather-related disruption earlier this year. The region's growth momentum remains slower than the UK as a whole, largely reflecting a soft patch for the service economy.
"Renewed pressure on household budgets from rising fuel and energy costs appears to have held back spending, which impacted negatively on consumer-focused businesses in the North East. Another robust contribution from the manufacturing sector was a key factor supporting growth in the region during May. Survey respondents noted that increased export sales and rising global capital spending had provided a boost to manufacturing output.
"The latest survey data indicates that North East firms are the most optimistic about the outlook for business activity since early-2016. While strong input cost pressures and soft consumer demand remain key challenges for the region, it is encouraging to see that private sector companies are planning to look through economic uncertainty and gear up for sustained business expansion in the coming months."
Download the full report here [PDF 868KB]
NatWest
2018
North
PMI
We're now NatWest Group
Come and visit us for all our latest news, insights and everything NatWest Group.