Royal Bank of Scotland teams up with Scotland's young business talent to encourage online safety
Royal Bank of Scotland has teamed up with seven of Scotland's rising entrepreneurs for a new documentary series – Microchats – to encourage young people across the country to think about their online personal security.
'Microchats' follows the interviewees, which includes a range of rising entrepreneurs, from an internet florist through to a best-selling author, for twenty-four hours, looking at how they each use social media to build their brands and what tactics they personally use to stay safe while online.
The seven guests include Chris McQueer, author of best-selling short story collection Hings; Hayley Scanlan, founder of her own fashion label and twice crowned Scottish Young Fashion Designer of the Year; Tom Ketley, owner and director of FLY events; Naziyah Mahmood, a qualified astrophysicist and one of Scotland's 30 'Most Inspirational Women under 30' as named by the YWCA; Chloe Milligan, founder of Mud Urban Flowers; Collette Norval, Managing Director at Social Stuff, creators of SQUAD Scarves and Josh Carson, Director at GearedApp, a software development company in Edinburgh.
The short clips follow the release of the Royal Bank of Scotland's inaugural Mobile Microleisure Report in March of this year. The report found that despite young Scots aged 18 to 24 spending an average of up to 46 days a year using mobile apps, they remain the most complacent when it comes to online security.

Josh Carson, founder or Geared App, said: "Whilst I'm generally savvy, I'm lazy when it comes to online security and I could definitely do to tighten up a few things. People get comfortable; if you've not been a victim of a scam then you think it will never happen to you but it could happen to anybody, I've seen it happen to friends.
"Everything is on my mobile phone these days and if I lost it and someone accessed it, they could take over my life. We're trying to get better at GearedApp so have introduced password managers and everyone is encouraged to generate unique passwords every time we sign up for a new service. "
Julie McArdle, Customer Security Manager with Royal Bank Security, said: "The results of the first Royal Bank of Scotland Mobile Microleisure Report threw up some startling insights into our mobile app use – especially our attitudes and understanding of mobile security.
"Our new Microchats series has been commissioned to raise awareness of mobile security issues faced by all age groups, including younger audiences who tend to feel the most comfortable and spend the most time using online apps and online payment methods. It's refreshing to see these seven aspiring business people, achieving so much in their careers and personal lives yet still conscious of the additional effort required to protect themselves online.
"The purpose of the films is to give an insight into our guests' lives and world but at the same time, reminding people of the measures to take online to stay safe and secure."
Watch these videos to find out more.


Supporting individuals
The Royal Bank of Scotland
Scotland
Education
Fraud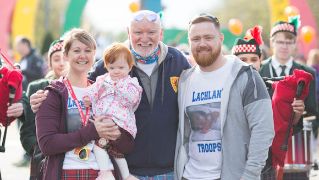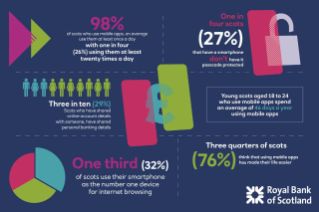 We're now NatWest Group
Come and visit us for all our latest news, insights and everything NatWest Group.