Guest blogs – Empowering Cardiff's entrepreneurs
18 months on since the opening of NatWest's Entrepreneurial Spark Hub in Cardiff, hear from three business owners who joined the hub to start and scale-up their businesses.
Mike Linskey
Founder & CEO of Salubrious Ltd
When I walked through the doors of Entrepreneurial Spark's Cardiff hub, my biggest fear was the 60 second pitch I knew I'd have to deliver to my peers the next day.
Fast forward to November 2017, and I am on-stage at Medica, the world's largest medical trade fair, in Dusseldorf. I'm confidently presenting Butterfly, an innovative mobile app for people with thyroid conditions, to a panel of investors, journalists and digital health experts - and in front of over 1,000 spectators.
That transformation didn't happen by accident. It's one thing to have a good idea, but being able to communicate it in a succinct and professional manner takes coaching and lots of practice, something which Entrepreneurial Spark's enablers encourage incessantly.
But that's not all that I have learned through the Hub's Sprint and Enable programmes. There's plenty of valuable information on offer at the monthly workshops, but even more to be gained at the regular group sessions with fellow entrepreneurs - where contacts are shared and ideas are exchanged. Salubrious has also found new partners, and received valuable advice from the hub's professional services associates - Dell and Pinsent Mason.
When you're immersed in starting up your new business, it's easy to lose sight of the things that matter. Which is why Entrepreneurial Spark powered by NatWest's simple message of – 'Go Do' – is so important.
Find out more about Butterfly by Salubrious.
---
Lauren Harvey
Founding Director of Full Stop
In 2011, Full Stop was my answer to a gap I saw with small businesses which did not have an active relationship with their accountants. I had been delivering finance and IT solutions across a range of organisations and I knew I would now have the tools to take this to a new market of small but progressive businesses. Seven years on this is still the case, yet cloud accounting is mainstream and Full Stop is taking every opportunity to remain at the forefront of the biggest changes this industry has ever faced.
When starting Full Stop, the biggest challenge for me was leaving a team in my previous job, which together had achieved amazing things. But my time at Entrepreneurial Spark Powered by NatWest has allowed me to be part of a team again. And as a result:
I have taken on six members of staff.
We now operate proudly from Cardiff with satellite offices in Bristol and Shoreditch.
Turnover has increased by 290% in the 18 months on the programme.
We are specialists in business tools and advising small but progressive businesses.
We have attended worldwide finance leadership conferences to ensure our business can remain at the forefront of our industry.
We have diversified into providing full outsourced finance department services.
Our home at NatWest's hub in Cardiff is a place for fellow business owners to step back and look at their business in purposefully homely, inviting surroundings.
Find out more about Full Stop.
---
Dr Afroditi Maria Konidari
Co-founder and CEO of Tendertec Limited

It all started in January 2017 with a chat with Victoria Mann, NearMeNow founder, who had already joined NatWest's Cardiff hub. Inspired by her excitement about the programme, we submitted our application online and our business, Tendertec, was given the opportunity to join the May 2017 intake. We weren't sure what to expect, but it has turned out to be one of the savvier moves we've made. One first gets blown away by the office space right at the Cardiff City centre, directly next to the new BBC Wales HQ, but as time goes by this becomes only a small part of what the hub really is – an opportunity to travel one's start-up journey with like-minded entrepreneurs, seasoned Entrepreneurial Spark enablers and an amazing network of mentors and NatWest partners.
Through our enablement sessions with our talented enabler, Charly, and the conversations with fellow hub members, the Entrepreneurial Spark programme has made all the difference for Tendertec. Since the day we joined, we have been inspired to understand and pitch our business in a completely different and more effective manner. Before the end of our first month in the hub, Tendertec won Cardiff's first 'NatWest Entrepreneur Meet Up Pitch-Off' competition. We are now eight months into Entrepreneurial Spark's unique Enable programme and Tendertec has been offered seed investment by Wales's first internet of things (IoT) Accelerator. Our business journey at the hub has transformed our mind-sets as entrepreneurs and we cannot be more excited about what is ahead of us.
Find out more about Tendertec.
---
About Entrepreneurial Spark
Entrepreneurial Spark, powered by NatWest, is the world's largest free business accelerator for start-up, early stage and growing businesses from all sectors. NatWest provides entrepreneurs who are selected as part of the Entrepreneurial Spark programme with free facilities and Wi-Fi, access to the bank's networks and suppliers, and free business advice. Find out more at the Entrepreneurial Spark website.
Posted in
NatWest
Wales
Enterprise
Start up
Blog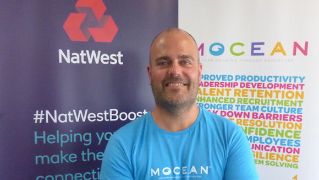 Guest blog: Finding happiness at Entrepreneurial Spark
Mick Lindsay, Director of Happiness and Engagement at Mocean Adventures Ltd, has been part of NatWest's Bristol Entrepreneurial Spark Hub since 2015. Hear from Mick on his journey so far, and how being part of the hub has made a big difference for his business.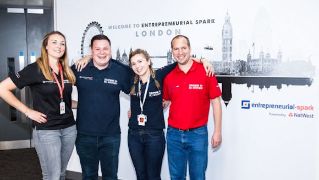 Powering UK businesses to start, scale and succeed
Ahead of the official opening of the London Entrepreneurial Spark Hub on September 5th, hear from Head of Entrepreneurship Gordon Merrylees on how the hubs support the entrepreneurial ecosystems of 13 cities across the UK.
We're now NatWest Group
Come and visit us for all our latest news, insights and everything NatWest Group.