New hub opens for London's start-ups as research shows capital continues to be leader for entrepreneurs
London is seen as the best place in the country to start a new business, according to new data from NatWest's Entrepreneurship Monitor.
The NatWest Entrepreneurship Monitor has revealed a third of the population believe that London is the best place in the country to start a new business because of its good transport links and a strong local economy.

Compared to the rest of the country, Londoners are less likely than anyone else in the UK to see fear of failure as a barrier to starting a new business - 26% compared to 33%, but they are more concerned about testing their start-up ideas -16% compared with 11%.

The research also revealed that Londoners are twice as likely to say that greater access to business accelerator hubs is a reason that London is a good place to start a new business - 44% compared to 18% elsewhere. Londoners are also more likely to prefer to be self-employed than Britons overall, with 27% preferring to work for themselves compared to 23% for the whole population.
Deputy Mayor for Business, Rajesh Agrawal, said: "London has long been fertile ground for entrepreneurs looking to take their exciting ideas and turn them into innovative businesses. The Mayor and I know from experience the challenges new businesses face and are committed to doing everything we can to support start-ups and scale-ups across all industries.

"This research is further proof that London is open for investment and the best place in the world to start and grow a business."
NatWest opens hub for over 100 of London's most inspiring entrepreneurs
Against this backdrop NatWest has opened the doors to its Regents House innovation centre in Angel, to London's first Entrepreneurial Spark hub - the world's largest free business accelerator- in partnership with KMPG, Del EMC and Pinsent Masons. The hub will be home to more than 100 of the capital's most inspiring entrepreneurs, who will be given free office space and facilities, business advice, entrepreneurial-enabling support and access to business and support networks.
National perceptions for starting a new business have fallen
Nationally, only 17% of people think now is a good time to start a business, hitting a record low according to the NatWest Entrepreneurship Monitor. The report also shows the proportion of people wanting to start their own business has dropped from 39% to 14% since the vote to leave the EU.

The reasons range from fewer people believing that they have the ability and skills to set up their own business - dropping from 42% to 36%; to a feeling that it is too risky – 34%; and fear of failure - 58%.

Encouragingly young people are much more likely to want to start up their own business. However, this desire is not being turned into action as the ambition gap in young people is almost double that of the general population – 20% compared to 12%.
Alison Rose, CEO of Commercial and Private Banking at NatWest, said: "These figures are not surprising but they are a stark reminder of the economic uncertainty and barriers that would-be entrepreneurs are facing. This is why it is so important that we step up to support start-ups, scale ups and small businesses allowing them to concentrate on establishing and growing their business and creating jobs for the UK economy.

"This is why we're so excited to be opening the capital's first Entrepreneurial Spark accelerator in Regents House, which adds to our already established network of 12 free accelerator hubs, giving us full coverage across the UK. We are committed to playing our role in supporting the UK's future business leaders and that together with Entrepreneurial Spark, we are giving them the best possible chance to succeed."
Entrepreneurial Spark CEO Lucy-Rose Walker said: "We've left the biggest until last as the sheer scale of the opportunity in the capital is so vast. Our four bespoke mindset-focused programmes make sure that every entrepreneur, from the kitchen table pioneer to the scale-up superstar can grow and exceed their potential. To have the chance to do that in the heart of London, in Angel, with so many entrepreneurs is amazing."
Barry McCaig, Partner at Pinsent Masons, said: "The NatWest Entrepreneurship Monitor results demonstrate exactly why supporting Entrepreneurial Spark is so important. The accelerator programme offers entrepreneurs the chance to develop the skills and mindset required to overcome the concerns identified in the research, allowing them to focus on building their businesses and creating jobs.

"That is why Pinsent Masons partnered with Entrepreneurial Spark in 2016, and why we are so excited to see the London Hub finally opening. The potential of bringing the knowledge and expertise of Entrepreneurial Spark and their partners together with so many talented entrepreneurs in the heart of London is incredible, and we can't wait to see what we can achieve."
Dayne Turbitt, Senior Vice President- UK and Ireland, Dell EMC, said: "Through our work with Entrepreneurial Spark, we are proud to continue to offer advice through mentoring schemes and support to inspire the next generation of entrepreneurs at this new accelerator in London. With digital technology forming the life-blood of a new generation of businesses, we hope that our expertise and insight will be of help for start-ups and growing businesses looking to establish themselves in these turbulent times full of opportunity. Entrepreneurial Spark is a fantastic initiative that across the UK has made a huge impact and we're looking forward to what the future holds."
Ben McDonald, UK Head of KPMG Enterprise, added: "We're pleased to be supporting Entrepreneurial Spark, NatWest and the other partners in the launch of the London hub. The research conducted by NatWest is a reminder that the entrepreneurial journey is rarely smooth, but those ambitious businesses that combine a founder's hunger with a desire and willingness to learn and seek support remain the most likely to succeed, both in London and around the country. KPMG Enterprise is working with entrepreneurs that display these attributes to secure finance, scale their businesses quickly and realise their ambitions."
Posted in
Supporting small businesses
London
Enterprise
Start up
Innovation
2017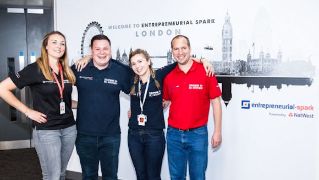 Powering UK businesses to start, scale and succeed
Ahead of the official opening of the London Entrepreneurial Spark Hub on September 5th, hear from Head of Entrepreneurship Gordon Merrylees on how the hubs support the entrepreneurial ecosystems of 13 cities across the UK.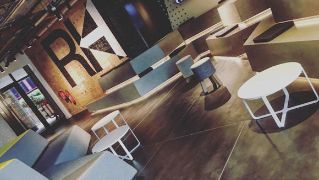 We're now NatWest Group
Come and visit us for all our latest news, insights and everything NatWest Group.