South East business expands thanks to funding from NatWest
NatWest has funded the opening of the new P&I headquarters in Havant, Hampshire, creating new jobs and investment in the local community.
P & I is a family run business specialising in critical power solutions. Founded in 1999, the company has grown to become a leading independent supplier of generators and uninterruptible power supply systems.

Having outgrown their property in Dakota Business Park, the P & I Management Team decided to take an opportunity in the new Harts Farm Way development, making them the first occupants of the site.

With support from NatWest, P&I was able to open its new headquarters in Havant, last May, with Alan Mak, Conservative MP for Havant, performing the official opening duties.

MP Alan Mak commented: "I was delighted to open P & I's new head office, which underlines the company's commitment to Havant and the strength of our local economy. This development will provide new jobs and investment into the area, providing further evidence that Havant remains an attractive place to do business. As a local success story, I look forward to watching P & I continue to grow in the years ahead."

Martyn Butcher, NatWest Senior Relationship Manager, added: "It has been an absolute pleasure to play a key role in supporting the design, development and delivery of P & I's fantastic new premises at Harts Farm Way. Not only has NatWest been able to support the firm with a six-figure sum of funding for the project but, thanks to our strong links in the business community, we were also able to introduce them to various professionals, including the main development contractor, Leominster Construction Ltd.

"Paul Benfield and his management team have created a superb working environment for their highly skilled and hardworking team. This new unit will allow them to push on and deliver their future growth aspirations, ensuring they remain a major employer in the Havant and surrounding area."

Managing Director of P & I, Paul Benfield, also commented: "This is an exciting time for P & I. If you had asked me 18 years ago when I started this business from a small room in my house, I would never have predicted that by 2017 we would be moving into a 1.5-acre property".


Related articles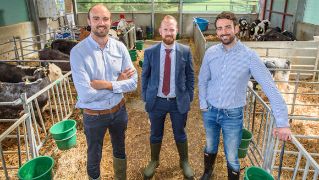 We're now NatWest Group
Come and visit us for all our latest news, insights and everything NatWest Group.