The squeeze is on - Economics Weekly
The UK job market is going like a train, setting records at almost every turn. But wage growth is slipping and prices are now rising faster than pay. For consumers, the squeeze is on and there's more to come.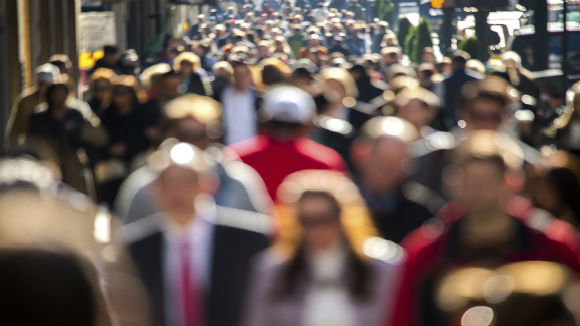 Squeeze here. In the pre-recession noughties, wage growth averaged 2.3% each year, in real terms. No wonder Mervyn King dubbed this period the NICE era. Recession followed, and with it a six-year run of falling real wages. Not so nice! Thankfully the last 2½ years saw a return to growth. But this resulted from low inflation rather than expanding pay packets. Dark clouds have returned. Annual earnings growth slowed to 2.1% in the three months to March, that's back below the rate of CPI. With inflation accelerating in April, a sustained period of falling real wages beckons. Consumers beware.

1975. Status Quo's number one record, Down, Down, Deeper and Down sums up the direction of UK unemployment. The rate fell to 4.6% in Q1, its lowest since 1975 - the same year Quo's hit topped the charts. With a record number of job vacancies, demand for labour remains strong, suggesting an even lower rate to come. Records tumbled in other areas, too. Employment moved within a whisker of 32 million, a rise of 381,000y/y. As a result, the employment and economic inactivity rates hit record highs and lows respectively. From these indicators, the UK economy appears to be in rude health; and might seem a far cry from the 'sick man of Europe' label of the 1970s. Just don't mention productivity.

Uh-oh. More jobs are great but when they come at the same time as weakening GDP growth we have a problem: productivity. That's exactly what happened in Q1 this year when a combination of more people working longer meantthe total number of hours worked rose by 0.8%. But output, measured by GDP, only rose by 0.3% in the first 3 months of the year. Consequently output per hour fell and in real terms is now barely better than it was before the financial crisis. That's a huge contributing factor in why wage growth is still so poor as unemployment falls even further.

Rising. Consumer price inflation reached 2.7%y/y in April, its highest rate since July 2013. This time last year, prices were rising at just 0.3%. The bulk of the increase is down to the deprecation of the pound. It stands 16% below its August 2015 level and 10% below its value on the day of the referendum on membership of the EU, pushing up the cost of imports.

More to come. The prices that producers pay for the materials and energy they use were the first to experience the effects of the fall in the pound. These have increased by 16.6% in the last year. Higher input costs will find their way, at least in part, into higher prices for consumers. That's why the Bank of England recently forecast that inflation would rise further, to 2.8% by this year's end, a rate that last week's figures suggest could be exceeded.

Middle England. The private sector recorded its fastest rate of growth for the year in April, according to the IHS Markit regional PMIs. London and the South East / South West have often enjoyed the fastest rates of growth. Over the last year or so that North / South divide has largely disappeared. But the South East does appear to be rediscovering its mojo, with activity expanding at its fastest rate in two years. London also hit a 16-month high. However, these regions continue to trail in 'Middle England's' wake, with the West & East Midlands posting the fastest rates of growth last month. All of the English regions, bar the North East, outperformed the other nations with Scotland remaining at the foot of the table.

Yes we Cannes. The eurozone has surprised many with its strong start to the year. GDP there rose by 0.5% in the first quarter, easily outpacing the UK, up 0.3% and the US, up 0.2%. Growth is pretty broad-based among member states; if you exclude Greece that is, where output fell by 0.1%. Germany's economy expanded by an impressive 0.6%, while France matched the UK with a respectable 0.3%.

The Imitation Game. Annual inflation in the eurozone reached 1.9% in April, up from 1.5% in March and a sharp reversal from -0.2% in April 2016. So inflation is not just a UK phenomenon, then. The main culprits are the same too, namely higher energy and transport costs. And just as at home, higher costs will nibble away at income and spending power, which will be felt in the high streets and on-line across the single market. It may not be enough to halt the current resuscitation of the region's economy, but it won't help either.

Back in black. Retailers endured a tough time during the first three months of the year but there's only so long that British shoppers can resist the lure of the high street. April's warm weather brought out the bargain hunters and helped drive sales up 2.3% on the month. The severity of the Q1 slowdown is underlined by the fact that this result only lifts the three month growth rate to 0.3%. With the squeeze on real wages, sluggish growth is set to be the norm for the near future.
This material is published by The Royal Bank of Scotland plc ("RBS"), for information purposes only and should not be regarded as providing any specific advice. Recipients should make their own independent evaluation of this information and no action should be taken, solely relying on it. This material should not be reproduced or disclosed without our consent. It is not intended for distribution in any jurisdiction in which this would be prohibited. Whilst this information is believed to be reliable, it has not been independently verified by RBS and RBS makes no representation or warranty (express or implied) of any kind, as regards the accuracy or completeness of this information, nor does it accept any responsibility or liability for any loss or damage arising in any way from any use made of or reliance placed on, this information. Unless otherwise stated, any views, forecasts, or estimates are solely those of the RBS Economics Department, as of this date and are subject to change without notice.

We're now NatWest Group
Come and visit us for all our latest news, insights and everything NatWest Group.