Guest blog: My story as a female entrepreneur
Entrepreneur Alice Walsh blogs about life as a small business owner and mother, and how NatWest's Women in Business programme has helped.
I've wanted to run my own business since I was a child. In 2011, I took the plunge and started 'Alice Made This', which is a British business specialising in men's and women's accessories. We make things like cufflinks, belts, bracelets and necklaces.
It began when my husband Ed and I were looking for cufflinks for our wedding and couldn't find anything we liked. We prefer clean, minimal accessories made from authentic materials and there wasn't anything like that around. We realised there was a gap in the market and as my background is in product design; I thought it was the perfect opportunity for me.
The start was very organic. I launched with a small collection of cufflinks which I sent to six key individuals, and didn't even think about what the next steps would be. I heard back from one of them the next day - it was Jeremy Langmead from Mr Porter, which is an online retail store for men. They were interested in featuring unique brands which was perfect, and it kicked off from there. Back then I was still working full time, and it was just me and Ed packing cufflink boxes in our one bedroom flat.
Fast-forward to 2017 and we have over 50 retailers globally, with 40% of our business in the UK. All of our products use industrial processes and are made from authentic materials including brass, copper and rose gold. Though we export our products abroad, we make everything in the UK. I'm keen that people understand manufacturing as a skilled process. It's not quick and easy, there's a lot of time, energy and skill that goes in to it.
Growing the business isn't the only thing that's happened. Since launching Alice Made This, my husband and I have had two children. It's definitely full on, but there's beauty in being your own boss. For example I've been able to take my children along to trade shows - I can do things on my own terms without having to ask permission.
And there's a lot of support. I met Jonathan Coates, who is my NatWest Women in Business Specialist, at London Collections (part of London Fashion Week) when I was just starting out. Jonathan loved my cufflinks, and spoke to me about all the work NatWest does in the fashion space and with the British Fashion Council. I decided I wanted to work with him; I felt like NatWest could help make things easier for me, and at the time it seemed unusual to me that a bank could make things easier!
But that's exactly what Jonathan did. NatWest has a huge network which helps provide opportunities for entrepreneurs, and has a special service for female entrepreneurs - its Women in Business programme. The most valuable thing for me from NatWest is having someone who understands our business and who can connect me with other women in business. From my experience women in business can have different worries to men, and for me it was important to be honest about that and get support from others.
We're planning to launch a full jewellery proposition soon, which will see us expanding our necklace range and including rings and earrings – we're really excited about this next step.

Find out more about Alice Made This.
NatWest has over 400 Women in Business Specialists throughout the UK, who can put women entrepreneurs in touch with relevant local organisations, professionals and NatWest's strategic partners, and deliver business expertise and specialist support. Find out more by visiting the NatWest Women in Business site.
Related articles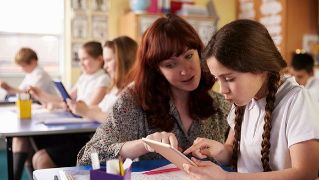 Breaking down career stereotypes for girls
This International Women's Day Lindsay Law invited 120 primary school girls to the RBS Entrepreneurial Centre and Open Experience in Edinburgh, giving them a unique opportunity to step into the heart of a technology and business operation.
We're now NatWest Group
Come and visit us for all our latest news, insights and everything NatWest Group.