Lombard - Understanding our brands
'Understanding our brands' is a series of articles providing an overview of each of our brands. In this piece we look at Lombard, the largest provider of asset finance in the UK.
What do Europe's largest vodka bottling plant and the special effects company behind Marvel and James Bond have in common? They're both customers of Lombard, one of the UK's oldest and largest providers of asset finance.
Lombard has a rich history in the asset finance arena, beginning in 1862 when the founders started hiring out rolling stock to some of the earliest railways. Today the company supports customers across many sectors with finance to help business growth; from cars and vans to 3D printers, the Welsh rugby travel coach and digital signs on the M1.
Lombard joined RBS as part of National Westminster Bank in 2000. It's a market leader in the asset finance industry, and for the eighth year running won the Business Moneyfacts Best Leasing & Asset Finance Provider Award in 2016.
Did you know?
Lombard's biggest deal financed 78 trains for Virgin Rail in a £395m contract.
Lombard's customers include the owners of Europe's largest vodka bottling plant, the UK's only washing machine manufacturer and the special effects company for movies such as The Hunger Games, Marvel films, James Bond and Batman.
Lombard partners with the Professional Golfers' Association (PGA) to present the Lombard Trophy, the biggest pro-am golf tournament. 2016 saw the introduction of a new pro-am tournament for WPGA and female amateurs, with the WPGA Lombard Trophy.
The company celebrated its centenary in 1961, making it the oldest surviving hire purchase company in the world.
History of logo:
The Lombard logo has evolved a number of times since its inception, however has always been comprised of a diamond which represents a lump of coal, an allusion to the Victorian origins of the company in the letting of railway wagons to collieries.
Related articles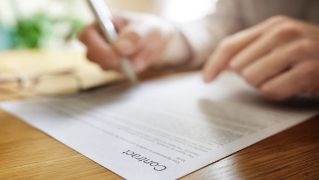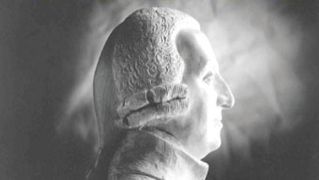 Adam & Company – Understanding our brands
Understanding our brands' is a series of articles providing an overview of each of our brands. Here we look at Adam & Company, the bank that at just 33 years old is the youngest amongst all RBS' brands.
Latest news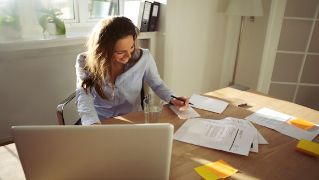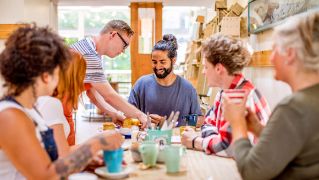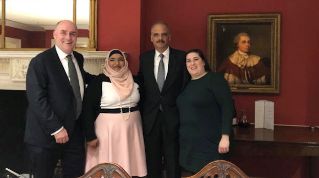 RBS Multicultural Network meets Eric Holder, 82nd US Attorney General
Simon McNamara, RBS Chief Administrative Officer and Executive Sponsor of the RBS Multicultural Network, recently hosted an event in discussion with Eric Holder, the first black US Attorney General. They discussed career, ethnicity, diversity and even a little bit of politics. At the event, Eric Holder shared his wisdom and experience with attendees from the RBS Executive committee and RBS Multicultural Network. Simon McNamara blogs about his experience meeting Eric, a BAME role model, and why diversity is so important to RBS.