Female entrepreneurs contribute £3.51billion to the UK economy
Women-led businesses contributed £3.51bn to the UK economy and created 77,000 jobs in 2015, according to a new study by Royal Bank of Scotland.
The research also showed that in Scotland, women-led businesses contributed £268m to the economy in 2015. The research, undertaken in partnership with Development Economics, revealed that while the proportion of the UK's female working population starting a business nearly doubled from 3.7% to 7.1% between 2009 and 2012, this has since tailed off, falling every year and standing at less than 5% in 2015.
Unsurprisingly, London is the most popular location for business start-ups, with 33,200 new companies launched by women there during 2015.
Amongst the UK's other main cities, Manchester witnessed 5,200 launches, 5,100 in Birmingham, 1,900 in Glasgow and 1,400 in Edinburgh. There were 800 female start-ups created in Cardiff.
However, despite a strong growth in female entrepreneurship overall since 2009, the number of women setting up a business in the UK still lags behind countries such as Canada and the US, costing the UK economy £1bn a year.
The research revealed that while the proportion of the UK's female working population starting a business nearly doubled from 3.7% to 7.1% between 2009 and 2012, this has since tailed off, falling every year and standing at less than 5% in 2015.
If the UK had sustained 2012's level of female entrepreneurship growth in subsequent years to reach the levels of its commonwealth counterpart Canada, the UK economy would have enjoyed an additional £1.35bn in 2015.
Commenting on the research, Steve Lucas, Managing Director of Development Economics, said: "Women are a vital part of the UK's enterprise economy, so it's positive to see the rate of female start-ups has been increasing as women respond to opportunities across a wide range of business sectors. However, the UK still lags behind the likes of the US and Canada, which have a much higher proportion of female entrepreneurs. In these nations, the celebration of entrepreneurial qualities is something that is deeply embedded, whereas the UK has a reputation for being more risk-averse and in some cases having excessive red tape that might constrain entrepreneurship."
Alison Rose, Chief Executive of Royal Bank of Scotland Corporate, Commercial and Private Banking, said: "We know entrepreneurs are vital to the economy and it's fantastic to see just how much women contribute, but it's clear we need to do more to power this growth in the same way our global counterparts do.
"At Royal Bank of Scotland we have created numerous roles within the bank that are dedicated to providing tailored support for women to start up and succeed in business. It's not simply about starting up, but supporting through all the business life stages.
"From introductions to relevant organisations to tangible day-to-day support, we want to go beyond providing financial services and help female entrepreneurs achieve their business ambitions."
Caroline Walsh, owner of Archipelago Bakery in Edinburgh, launched her business with support from Royal Bank of Scotland in 2015.
She said: "It was always a dream of mine to open my own bakery and café.
"I've always love the idea of making well-made goods and making sure that my ingredients have provenance.
"Thanks to shifting attitudes amongst the public who are much more knowledgeable about food and who care about what they are eating there is a real market out there for people who want food that tastes great and healthy at the same time.
"But launching a business comes with challenges – it isn't simply about business skills or finance, it is about confidence and the right support.
"Thankfully Royal Bank of Scotland believed in me from the start.
"My relationship manager supported me when I first launched the bakery and when I suggested expanding the business, he helped me find a way to make it happen."
Find out more on the NatWest Women in Business website.
Related article
Latest news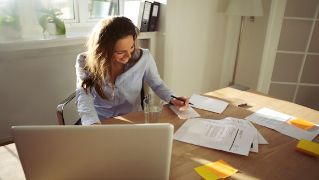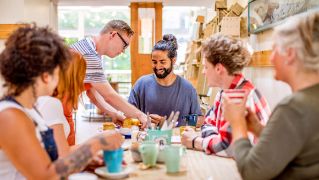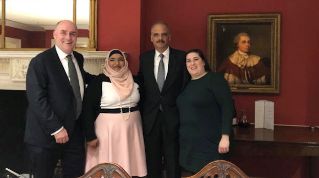 RBS Multicultural Network meets Eric Holder, 82nd US Attorney General
Simon McNamara, RBS Chief Administrative Officer and Executive Sponsor of the RBS Multicultural Network, recently hosted an event in discussion with Eric Holder, the first black US Attorney General. They discussed career, ethnicity, diversity and even a little bit of politics. At the event, Eric Holder shared his wisdom and experience with attendees from the RBS Executive committee and RBS Multicultural Network. Simon McNamara blogs about his experience meeting Eric, a BAME role model, and why diversity is so important to RBS.