Pausing to remember
100 years on from the Battle of the Somme, Archivist Ruth Reed examines the ways that the stories of those we have lost are remembered today.
Every year on 11 November we pause to remember the devastating impact of war on past generations. Many families and communities commemorate the lost relatives, neighbours and colleagues whose absence is still felt, even if the people who directly knew and loved them are themselves no longer here. RBS is no exception. We remember more than 2,500 of our past colleagues who died as a result of war in the 20th century, and many more whose lives were changed forever by their wartime experiences.
Part of my job in the bank's Archives is to protect and maintain the records that tell those people's stories. Sometimes we know quite a lot about them, through the survival of photographs, letters and other detailed documents. In other cases, we have little more than a name.
This year marks the centenary of the Battle of the Somme, and that has led me to think particularly about that battle and our colleagues who were there. Nearly 150 men from our banks were killed in the 141-day Somme campaign. Each one of them is commemorated on our First World War wall of remembrance at www.RBSremembers.com.
Anyone can leave a message of remembrance on the website. Of the messages posted around the start of the Somme centenary, I was particularly moved by one from a great-niece of Second Lieutenant Frederick Bradford, who worked as a clerk at Old Street branch of our London County & Westminster Bank before joining up in 1914. In her message, she mentioned that at the beginning of July she and some of her family would be marking 100 years since his death by walking together to his parish church.
A few days later, a 22-year-old student based in London left a further message. He had just taken part in the #WeAreHere commemoration, in which volunteers in 1916 army uniforms appeared in streets all over Britain, bearing witness to the lives that were lost on the Somme and the gaps they left in our communities. They did not speak to passers-by, but simply handed out cards, each giving the name of a soldier who died.
This student's cards had been in the name of Frederick Bradford. He was keen to let the family know that Frederick had been represented and remembered in the commemoration.
For me, that's a big part of Remembrance day – building bonds between families, colleagues and even strangers who, perhaps just by chance, have a shared connection with a name from the past.
This year we've also had a powerful reminder that the bond between the bank and its military staff is far from belonging just in the history books. In August RBS was granted a Gold Award under the Ministry of Defence Employer Recognition Scheme, which recognises employers who are supporting Armed Forces personnel and their families. It's a timely reminder that the impact of war is still with us – not only echoing down the generations, but also highly relevant today.
Related articles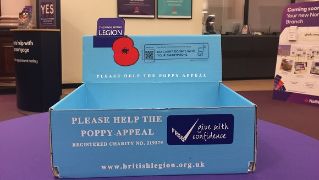 The Royal British Legion launch contactless Poppy collection tins with NatWest
NatWest, Worldpay and Thyngs are supporting The Royal British Legion by making it easier to donate to the Poppy Appeal using the latest payment technology. The trial, taking place across 13 NatWest branches, will mean that people who don't carry cash can pick up their poppy and donate with a tap of their contactless card or their mobile phone.
We're now NatWest Group
Come and visit us for all our latest news, insights and everything NatWest Group.