Royal Bank of Scotland – serving Scotland for almost 300 years
As the Royal Bank of Scotland renews its commitment to modern day Scotland we take a look at how the bank's history is intertwined with that of the country.
1695 – Before the bank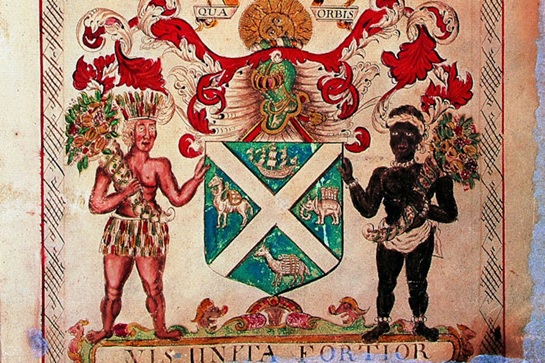 Coat of arms of the Company of Scotland Trading to Africa and the Indies, 1696
In 1695, a group of investors tried to set up a Scottish trading colony at Darien in Central America. The terrible failure of their venture cost Scotland 2,000 lives and a quarter of her entire liquid wealth. It also became a major contributing factor in Scotland's acceptance of political union with England to form Great Britain in 1707.
1727 - The birth of the Royal Bank
The terms of the 1707 Union between England and Scotland included compensation to be paid to Scots for the money they had lost in the Darien disaster. A company was formed to manage the payments, and it soon found that it had spare money to invest. Its directors had the idea of starting a bank, and petitioned King George I for his approval. In 1727 a royal charter was granted, establishing The Royal Bank of Scotland. In 1728 the bank made history by granting the first ever overdraft.
1740-1780 – Getting settled
Scotland's prosperity grew, and Edinburgh became one of the key hotspots of the European Enlightenment. Local luminaries such as Adam Smith, David Hume, Henry Raeburn and James Hutton led Enlightenment thought in their respective fields, many of whom were customers of The Royal Bank of Scotland.
Scotland was beginning to develop its famous 'multi-bank system'; a well-balanced network of successful, competitive banks. This created a more stable financial system than that in England, where the Bank of England's monopoly dominated the sector, forcing other banks to remain small, local and vulnerable to adverse conditions.
1780-1820 – Spreading out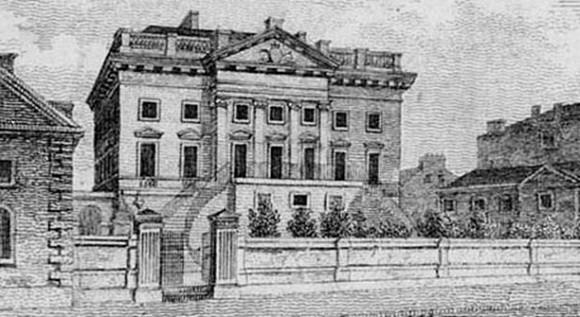 Royal Bank of Scotland's Glasgow branch in the early 19th century
Until 1783 The Royal Bank of Scotland traded only from Edinburgh, but in that year it opened its first branch-office, in the fast-growing city of Glasgow. Already a major port city, Glasgow was poised to become a key centre of manufacturing too. The Royal Bank's new branch helped to provide the finance that businesses needed to maintain trade and fund capital investments. Within two decades, the Glasgow branch was already conducting more business than head office in Edinburgh.

1820-1860 – Banking on notes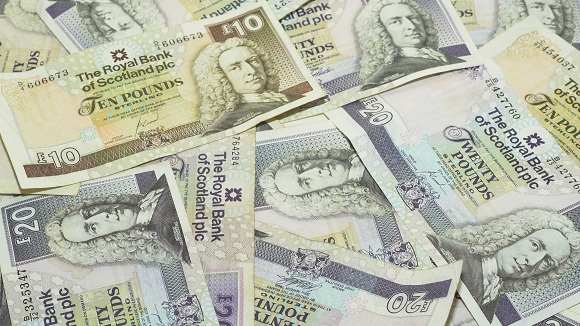 In the early years of the 19th century England suffered a succession of financial crises, the most devastating of which, in 1825, ruined 60 banks.

By the mid-1840s, the contrast between the English and Scottish systems of banking was already well-established, but the gulf was widened by legislation in 1844 and 1845. In England and Wales, the new law was designed to bring a gradual end to the practice of banks (other than the Bank of England) issuing their own notes, but in Scotland the new law was a little different. It made it easier for banks to keep up their note issues and, indeed, Royal Bank of Scotland continues to print notes to this day.
1860-1890 – Building a network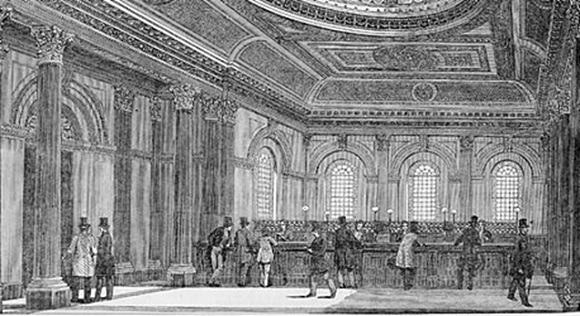 Banking hall of National Bank of Scotland's Glasgow branch, 1870s

The bank also began expanding its branch network more enthusiastically, catching up with other Scottish banks that had always aspired to large and widespread branch networks. By 1890, the Royal Bank had 134 branches across Scotland. In many locations, banks built smart, imposing premises which were often among the most striking buildings on the high street; bricks-and-mortar statements of permanence and prosperity. Today, many of these buildings remain precious parts of our shared built heritage.
1890-1920 – World War One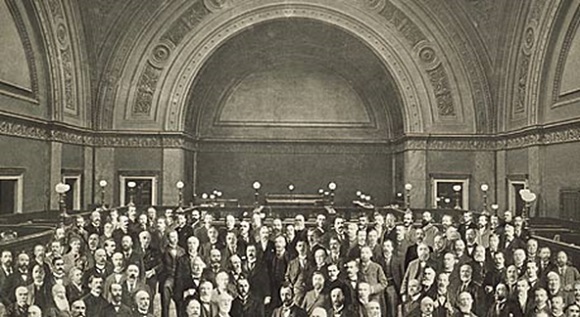 Photographic montage of the managers of The Royal Bank of Scotland in 1899

The outbreak of the First World War in 1914 brought new challenges. To keep banks running while male staff were away on active service, women were employed in large numbers for the first time. Although many of them left after the armistice, banking would never again be an all-male profession.

Another workplace revolution was taking place at the same time. Machines were arriving in offices everywhere. In the banks, typewriters and adding machines became popular, permitting machine-accounting, the systematic generation of bank statements and the handling of ever-growing numbers of accounts.
1920-1950 – World War Two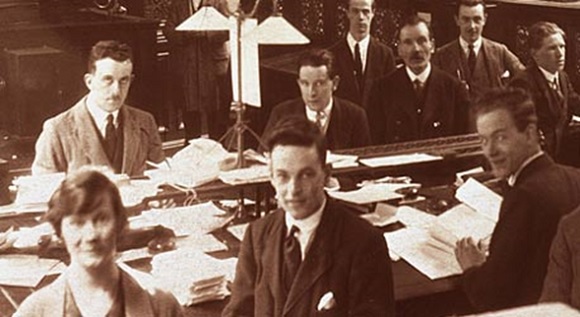 Staff in The Royal Bank of Scotland's Glasgow office, c.1925

1939 saw the outbreak of the Second World War. Just like the First World War a generation earlier, wartime meant many new problems and responsibilities for banks. In addition, many bank branches – particularly in Britain's cities and larger towns – were damaged or destroyed by enemy bombs.

1950-1980 - Innovation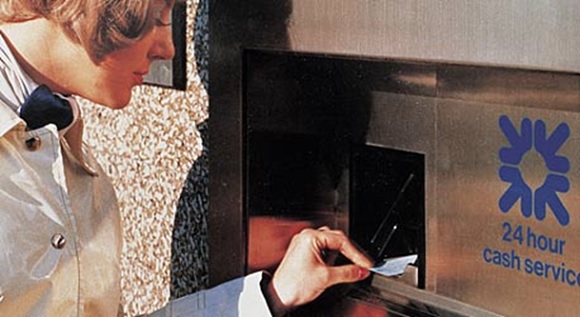 An early Royal Bank cash dispenser in use, 1971
In the late 1950s and 1960s new services were introduced, including mobile and drive-in banks. The Royal Bank of Scotland launched personal loans, savings stamps and an early form of cash machine.

In 1972 The Royal Bank of Scotland became the first British clearing bank to offer a house purchase loan scheme to customers. A year later, it was the first Scottish bank to have all its branches linked online to a head office computer.
Present day – Modern banking for a modern Scotland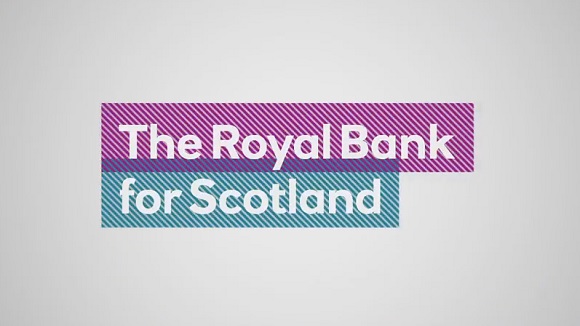 Royal Bank of Scotland has paved the way in banking ever since it was established in 1727. From the world's first overdraft, and the first house purchase loan by a UK bank, to the first fully-fledged internet banking service and mobile banking app the bank has a history of making life easier for its customers. The bank is committed to serving Scottish communities and putting the interests of customers first.
Related articles
Our brands
Through our brands, we provide financial products and services to personal and business customers throughout the UK and beyond.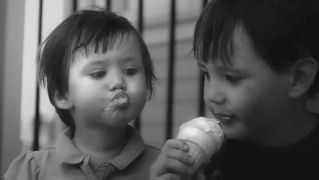 Rebooting our brands
As NatWest and Royal Bank of Scotland take centre stage, Chief Marketing Officer David Wheldon explains why this is so important.
We're now NatWest Group
Come and visit us for all our latest news, insights and everything NatWest Group.