Cycling 500 miles for The Prince's Trust
Andy Kitchin from RBS Technology blogs about his cycle across the UK which is raising money for the Prince's Trust.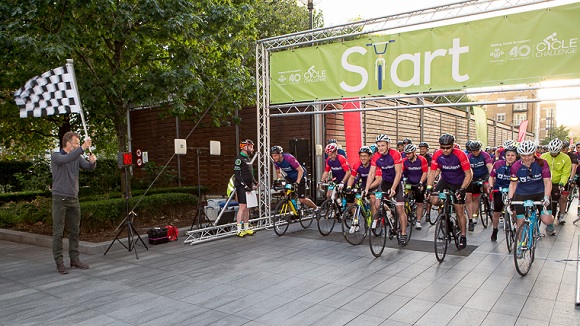 ---
Day five – the final stretch
---
For the first time, the weather was not quite perfect today. We have been blessed with fantastic weather all week, hot, sunny, no real wind – perfect cycling weather.
Thankfully the overnight rain clears as we take the bus to the start, leaving cool and windy conditions. One last big breakfast then, one last sort out of bike, kit, food and drink for the day. Everyone is so pleased to have come this far and determined to finish the ride, so, one last roll over the stat line, this time for 116 miles to complete the journey to Edinburgh.
I have pain killers in my system from the off today and, given the headwind, decide to ride with the same group as I did on Tuesday and early Wednesday, the bunch affords protection from the wind and by sharing the work we can progress quickly. Out from Carlisle the roads are flat as we cross the Solway and there is a cheer as we enter Scotland, another milestone.
After the first pit stop we get into some sharp climbs and the head wind really begins to pick up. From Moffat we climb to the Devil's Beeftub at a cracking pace and then speed down the other side towards Biggar. A brief stop, where we are encouraged on by Mark Beaumont, the long distance cyclist, and on to the very final leg. At points it feel like a case of so near yet so far – "How can it still be 30 miles ?"The headwind is making life difficult. Eventually we turn down wind and are bowling along at 25 mph. Through Livingston we know we are virtually done, everyone relaxes and enjoys the final 10 miles to the RBS headquarters at Gogarburn.
Here the sun is shining, the music is playing, the banners are out and many of our colleagues are there to cheer everyone in. It is a great feeling to complete this challenge – 527 miles, London to Edinburgh, in 5 days.
Superbly organised and brilliantly ridden by a whole variety of colleagues from across RBS. I can say with absolute honesty that I never saw a single bad mood, nor heard a cross word all week. Certainly people were tired, in pain, at some points in despair but throughout everyone remained positive and determined. Numerous times I heard conversations like, "Go on, don't wait for me" - "No way, we're riding this together, we'll wait", or "Will you be able to ride tomorrow ?" – " I hope so, I'm going to check in with the doctors, should be fine".
I have enjoyed riding at different paces and with different people on different days. Seeing all sorts of people out on the road; some dedicated cyclists, some, quite simply, dedicated, all working hard to complete the challenge and to raise funds for the Prince's trust.
After a shower and food at Gogarburn I head back out into the sun and cheer in more riders, just wanting to congratulate these people that I have come to recognise or know this week and to soak up the fantastic atmosphere of the Challenge for a little bit longer.
---
Day four - Beauty and pain
---
This morning I discovered that I could no longer sit on my saddle. I'll avoid the gory details but any attempt to sit was, literally, eye wateringly painful.For an hour or more I persisted with trying to sit intermittently but had to give up and ride out of the saddle.
I was thinking I'd not be finishing this ride. The pain was severe and I was annoyed that it was detracting almost entirely from the beautiful scenery. Slowly I worked out a good pedalling technique and made it to the first pitstop. I wandered about in a daze for a while and then visited the medic and was given plenty of pain killers.
Since I had made it to the first stop I thought I'd try and get to the second. After 90 minutes the pain killers had kicked in and I was able to do some sitting and even pedalling in the saddle.
With less pain I was now better able to enjoy riding through the beautiful woodlands of the south Lake District as we made our way through to Windermere. Then we were on to the biggest climb of the week, over the Kirkstone Pass trough the Lakeland fells in hazy autumn sunshine. It was magnificent.
Many riders are dealing with all sorts of pain this week but carrying on nevertheless. People are doing things they might not have thought possible for them. Here then is a shout out for Mandy Kang. A colleague signed Mandy up for what she thought was to be a one day 100 mile leg of the Challenge. So Mandy bought herself a bike 6 weeks ago. Now she has done 4 days and will be riding the 5th and final day on Friday.
---
Day three - Stoke on Trent to Blackburn
---
People are starting to get tired. The guy I sit next to on the the morning bus was in despair, he was hurting everywhere.
This morning the route gets straight into the climbing and does not let up. Some climbs are long, some are shorter, some seem endless plus they are steep. Time and time again we hit gradients of 1 in 7.
After the first pit stop it is a largely flat run in to Manchester but for me the damage has been done and I am really starting to struggle. Someone in our group announces that we are half way to Edinburgh, all I can think of is whether I can manage to cycle the second half given how I feel.
At Hardman Boulevard I decide that I need a proper break so say goodbye to the morning's companions and am there for the best part of an hour. Setting of with another small group I slowly get back into the rhythm and by keeping my effort as low as I can I begin to feel a little recovered.
There is more climbing on the last leg longer and steadier, still hard work. At the top of one very long climb we stop to rest and one of the support cars pulls up to check we are ok, which we are, basically. They tell us that the first section of the day has taken a real toll on many riders. The steep narrow descents washed with gravel and stones causing crashes, broken bikes and retirals. The hills have done for others.
It's worth considering what the Cycle Challenge riders are doing. We are setting off earlier than most people start work in RBS but imagine when you arrive at the office is when we start riding. All morning as you work at you desk we are riding. When you have your lunch we have a quick lunch break too but are soon back riding through the afternoon. During that afternoon meeting we are riding. As you finish for the day some of the quicker riders will finish for the day too. If you put in an hour of extra work others are still riding, for longer.
These are long hard days in the saddle and the riders are doing it in order to Change Young Lives. Please, if you know someone who is doing this, log on to www.sponsorme.co.uk , use the search to find their name and donate to The Prince's Trust. Thank you in anticipation of your generosity.
---
Day two - A cycle down memory lane
---
My room mate Chris is on the front line today and after not seeing him at all on the Monday ride I joined him and set off in the first wave. Some of the riders in the group were quite strong and we bowled along the flat roads. The route took us between Coventry and Birmingham and at some point corn fields gave way to pastures and greenery.
After the second pit stop we began to hit hillier terrain with a couple of long climbs up and over Cannock Chase. As a teenager I took up orienteering and the Chase was somewhere that I ran too many times to remember. Our destination was Tean, which was the venue for many a night out and disco when I was a sixth former. You can imagine the memories.
After food, rest and refreshment, and just as I got on a bus to the accommodation lightning flashed and the heavens opened (sufficient to make the 6 o'clock news). Riders were still finishing. 104 miles, 8 hours in the saddle and right at the very end a total soaking. Cruel.
---
Day one - London to somewhere...
---
There ws a quiet buzz of activity at the start hub with hundreds of participants breakfasting and going through last minute arrangements, checks and rituals before heading off to the start line.
We started, bleary eyed (after little sleep and a 5:30 am wake up) but fresh legged, to wind and weave our way north out of London. Progress is slow with traffic, junctions and lights to deal with, but it passes and we eventually leave urban for rural roads and lanes with little traffic. Golden corn fields, cool shady woods and idyllic villages, all very Home Counties.
Progress is good. Sometimes chatting, sometimes just riding. We all pass the miles and the pitstops until at last in the mid afternoon sun we reach the finish for the day. 98 miles, one day done. Not easy, but not yet truly hard, it's been a good day and everyone is in good spirits for completing it.
---
Before the challenge: Signing Up

---
I missed the chance to do the Cycle Challenge last year so I was straight on to sign up when this year's event was announced.
I've been very active all my life, a runner for 30 odd years, but in the last 3 years it's been cycling so the opportunity to ride from London to Edinburgh is just too good an opportunity to miss. It's a classic route I think; capital to capital.
It's not only the ride though, the Prince's Trust is a charity to which I can really relate. In my 20s I was unemployed for an extended period, a difficult and depressing experience. An educational grant gave me an opportunity to get off the dole, study and retrain and ultimately this lead to my career in the bank and the life I live.
The Prince's Trust does much the same thing as that, which helped me, it provides opportunity for people who find themselves stuck at a dead end or who simply never had the opportunity they needed and in doing so the Trust helps them build a life.
Related articles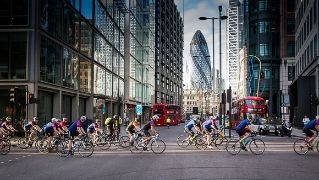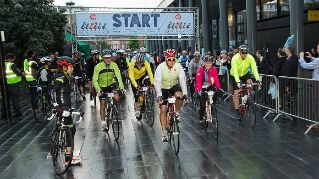 My RBS Cycle Challenge diary
Bernadette Bennett from RBS Supply Chain Services blogs about her journey as she cycles 500 miles across the UK for Sport Relief.
We're now NatWest Group
Come and visit us for all our latest news, insights and everything NatWest Group.