Royal Bank of Scotland and NatWest launch 2016 student account
NatWest and Royal Bank of Scotland are helping to make travel easier for students with a free National Express Coachcard when they sign up for a Student Account, register for online banking and receive paperless statements.
The account offers an interest free overdraft of up to £2000 after the first term and access to the market leading mobile banking app to help students better manage their finances on the move.
The four year Coachcard gives students a third off standard fares on National Express's network, which serves over 900 destinations, including major airports, cities and attractions as well as serving all major university cities. National Express have over 20 dedicated campus stops around the UK.
The full features of a Student Account are:
Free National Express Young Persons Coachcard (T&Cs apply)
£500 interest-free overdraft on account opening
Up to £2,000 interest free overdraft after term one
Contactless debit card
Mobile Banking app: make payments, view balances, transfer money
Apple Pay
The account also provides help with budgeting and managing finances, through useful tools such as text alerts and GetCash, which can be used to withdraw money without using a bank card.
Dan Jones, Head of Student Accounts said, "Our award winning Student Account offers the opportunity to travel the UK at a fraction of the cost, as well as our mobile banking app so students can bank while on the move."
Disclaimer
To apply for a Student Account you must be aged 17 or over & completing a full-time undergraduate course that lasts at least 2 years; completing a full-time post-graduate course; or training as a nurse, at a UK university or college of higher education. If you want to apply for the Arranged Overdraft too, you'll need to be aged 18 or above and a permanent UK resident (ordinarily resident in the UK for 3 years or more)
You must use your NatWest Student Account as your main current account by paying in at least £750 every 6 months and make at least 3 debit transactions every month. If you stop using your account as your main current account then the interest rate you pay on your Arranged Overdraft reverts to the standard rate which applies to the Select Account. Arranged Overdrafts are repayable on demand.
Online Banking is available to NatWest account holders aged 11 and over. App available on selected smartphones, to NatWest customers with online banking and a UK mobile number. Please note that you must be signed up for online banking in order to use the NatWest mobile app.
To use Apple Pay in stores you need an iPhone 6/6S, 6/6S Plus or Apple Watch. Apple Pay can also be used to pay within apps on iPhone 6/6S, 6/6S Plus, iPad Air 2, iPad Pro and iPad Mini 3 and 4.
This article is for media use only and is not a financial promotion.
Related articles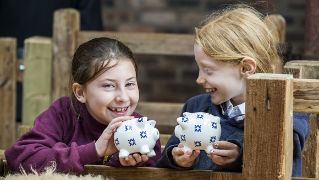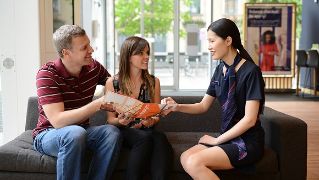 Leading the pack on financial education
Following the release of our Sustainability Report 2015, our Director of Sustainability, Kirsty Britz explains how supporting financial education is helping today's customers and those of tomorrow.
We're now NatWest Group
Come and visit us for all our latest news, insights and everything NatWest Group.