Portsmouth most affordable city for students
Portsmouth tops the NatWest Student Living Index as the most cost effective city, closely followed by Liverpool and Newcastle.
Students in Portsmouth, Liverpool and Newcastle have the highest term-time income making these locations some of the most cost efficient places to study in the UK.
The NatWest Student Living Index surveyed 2,500 students across the UK to determine the most affordable place to study. The survey takes into account a range of factors, from how much students spend on going out to how much time they spend studying.
Portsmouth students pay slightly more rent than the UK average but are topping up their term-time income by working around 25% more hours in part-time jobs. However students there still have time to socialise given they are ranked as the third most sociable place to study.
Edinburgh was found to be the most expensive city for students due to above average rent costs combined with significantly lower than average term-time income. Despite this, Edinburgh students spend the most on going out and spend more than the weekly average on alcohol.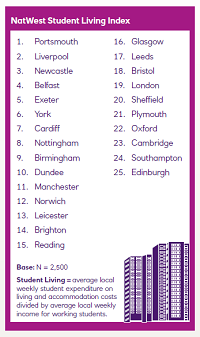 The majority of a student's income comes from loans, which on average are £161.14 per week, four times higher than any other source, including part time work. After loans, money from parents is the largest source of income.
For students in England and Wales fees are higher than ever, however only 1 in 50 take fees into consideration when deciding which university to attend. Other concerns such as subject choice, university reputation, distance from home and the cost of living were more important for 98% of prospective students.
The research also found that over half of students find managing their finances stressful with less than 2 in 5 having a dedicated budget.
Dan Jones, NatWest's Head of Student Accounts said:
"Making the most of University can be expensive and there is a massive difference in the costs students face depending on where they choose to study."
Related articles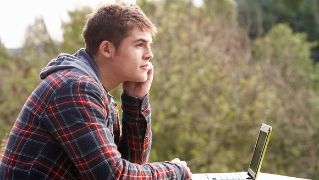 We're now NatWest Group
Come and visit us for all our latest news, insights and everything NatWest Group.