Guest blog - Managing my money with MoneySense
17 year old Connor Richardson from Wallace High School in Lisburn, Northern Ireland, is one of millions of school pupils to have benefited from a MoneySense workshop.
We had our first MoneySense workshop in school just before Christmas last year. It was really good and I learnt a lot. It was all about mobile phones – which was useful because I was just about to upgrade! Teenagers don't tend to shop around so the workshop taught us that it's important to get the best deal for you and not just follow your friends. It's something we can carry forward into bigger financial decisions like getting a mortgage when we're older.
To me, managing money means thinking about the future. I've always been a bit careless with money. I've got a job as a waiter and when I first started I would spend all my money instantly. When I didn't have any money left to pay for my mobile phone I quickly realised that I was going to have to plan and budget better.
My friend and I have been saving so we can go on holiday in the summer. I've just started driving too so I need money for petrol and insurance. But I'll also be putting money away so that I can hopefully afford a car of my own one day.
What I've learnt through MoneySense will definitely make me more likely to shop around and look for the best deals. Being educated like this opens your mind and makes you realise the importance of looking after your money when you're young.
I want to do biochemistry and German at uni. I love German and I love the country but I've always wanted to do medicine so I decided to combine the two. Perhaps one day I'll be able to live and work there.
It's really important to learn about money management as early as possible. When you're my age you tend to think only about the now, but we're growing up fast and we're going to go to university or college and that's when we need to be more sensible with money.
The best piece of money advice I've ever been given is to spend on needs and not wants. I've often wasted money on things that I don't need – so the more young people understand the value of money the better.
I think that by understanding money management now it will help me with other things in the future. I often took money for granted but MoneySense has helped change that.
MoneySense is a great example of how to help young people understand money better. But I think banks can definitely do more. I've never been taught anything by a bank before so the MoneySense workshop was a first for me. It can sometimes feel like a case of take and not give with banks, but MoneySense doesn't feel like that. It's definitely helped me think about my approach to money.
Related articles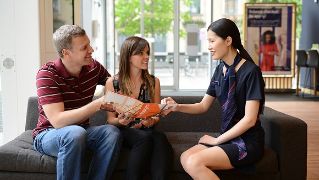 Leading the pack on financial education
Following the release of our Sustainability Report 2015, our Director of Sustainability, Kirsty Britz explains how supporting financial education is helping today's customers and those of tomorrow.
We're now NatWest Group
Come and visit us for all our latest news, insights and everything NatWest Group.