Guest blog: RBS is keeping you posted
Last week the Royal Bank of Scotland, NatWest and Ulster Bank NI became the first high-street banks to receive the Keep Me Posted 'Mark of Distinction'. Judith Donovan CBE, Chair of Keep Me Posted, explains why this is a huge step forward for consumers.
The last decade has seen a wholesale change in how service providers, such as banks and utility companies, communicate with their customers. The rise of digital services, such as online banking, has been a great innovation for many people who want to incorporate the advantages of modern technology into their day-to-day life.
Despite this there are still large numbers of UK consumers who either can't or won't manage their personal affairs online. There are approximately 5 million people in the UK who have never used the internet, according to figures released by the Office for National Statistics. This accounts for 14 per cent of all British households. The figures increase significantly for the vulnerable people within our society, such as the elderly or disabled. There are also millions of people who might have used a computer but have nowhere near the digital skills or confidence needed to manage their finances online. It is because of these people that we must protect the consumer's right to a paper bill or statement if they so choose.
The Keep Me Posted campaign is dedicated to making sure that everyone has a choice in how they receive bills and statements from their providers. As such, we are thrilled to award the Royal Bank of Scotland, NatWest and Ulster Bank NI with our campaign's 'mark of distinction', signifying that they will provide their customers with a paper bill if they request it. They are the first high street banks to make this commitment. We encourage more of the UK's providers to follow their example and do what is best to protect the rights of their customers.
Related articles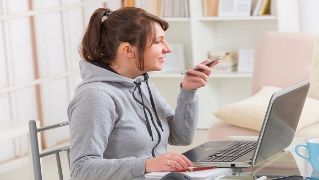 New sign language services launch at RBS
To coincide with Deaf Awareness week, RBS is launching a new service for British Sign Language customers, making it possible to instantly chat with the bank through a British Sign Language interpreter.
We're now NatWest Group
Come and visit us for all our latest news, insights and everything NatWest Group.