Vote opens on latest round of Skills and Opportunities Fund
Public vote to decide which good causes receive funding from £2.5m RBS Skills & Opportunities Fund opens today.
Over 900 applications from charities, community groups and state-funded schools and colleges have been received in the latest round of RBS Skills & Opportunity funding.
Applications have now been narrowed down to a shortlist of 90, across seven regions in the UK and Republic of Ireland. Members of the public have two weeks to vote for their favourite in each region. The vote closes on Friday 22 April, and the shortlisted organisations are now busy gathering support for their projects.
The results of the public vote will count as one vote alongside those of a panel of judges in each region, deciding which worthy causes receive funding when the winners are announced on 24 May.
Every project will help people in the UK and Ireland's most disadvantaged communities help themselves to succeed in life by learning new skills, finding work or starting a business.
Kevin Ross from Granton Youth Centre, one of the winners who received funding for their Employability for Young People project last year, explains how receiving a grant for £22,500, has helped them to transform young lives in their area:
"The funding has enabled our organisation to deliver a pre-employability programme that has been specifically tailored to meet the complex needs of local young people furthest away from the employment and learning markets. We have supported them in a holistic manner to bring about new opportunities that will support dynamic life and skills development opportunities."
Thom Kenrick, Head of Community Programmes said:
"At RBS we know that we can make the biggest difference when we help people help themselves. All our shortlisted projects have so much to offer people in their communities, so we're asking the public to get behind the good causes that matter most to them."
To vote just go to the Vote for your project section on http://skillsandopportunitiesfund.rbs.com; select a region and follow the instructions to vote for up to one project in each region or country.
More information on the shortlisted projects and the organisations behind them is available at http://skillsandopportunitiesfund.rbs.com, where you can also sign up to receive updates.
Related articles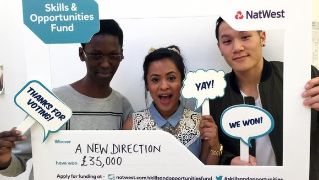 We're now NatWest Group
Come and visit us for all our latest news, insights and everything NatWest Group.