Start-up case study: This Mum Runs
Throughout its partnership with Entrepreneurial Spark and its own initiative Women in Business, RBS inspires and enables women to succeed in business. 'This Mum runs' is an example of small business who benefitted from such programmes.
This Mum Runs is a fast-growing women's running community that is open to all regardless of age, size, shape, ability or experience. Launched in October 2014, it has encouraged more than 2,300 mums in the Bristol, Bath and Keynsham areas to run regularly by making the activity fun, social, convenient and accessible.

"It all started after I had children," says founder Mel Bound. "Basically, I found it almost impossible to exercise as it always seemed to clash with looking after them. I used to be a regular exerciser, I did sports studies at university and I worked in sports marketing. But if I was finding it impossible, even though I'm committed to fitness, what must other mums be going through?"

So Mel thought she'd try finding herself a running buddy; someone who'd run with her after the kids were in bed, often in the dark. She put a shout-out onto a local mums' Facebook group saying: 'I've had kids. I've done no exercise for four years. I feel lazy and out of shape. I'll be in the park at 7:30pm, Wednesday. Who wants to come running with me?' "I couldn't believe the response," she says. "The first week, 75 strangers turned up. That scared the life out of me. I thought 'Great, okay, now what on Earth am I going to do with all these people?'"
The group mushroomed, with other mums asking 'Can we set up a group in this part of Bristol?' So Mel helped them. Then people said 'Can we run weekends as well?' So Mel started leading a group at 8:00am on Sundays. Within two months This Mum Runs numbered 400 people. Mel was soon approached by England Athletics, who agreed to fund the training of some mums to be running coaches.

"The reason it's working is because it utilises a combination of my skills and experience gained over my whole career: working in sports marketing, being a runner and now as a mum. I understand what people want. Simply employing running coaches would have made this feel like a running club, which it isn't. Actually having women leading sessions who were in the same boat and were totally relatable, felt more motivational. The first 15 we trained we called Run Makers (60 funded, by the end of April 2016). Then we organised couch-to-5K programmes that people paid to go on."

That's when it began to transform into a business. It's also when it started to get really tough for Mel. "It nearly broke me,' she says. "It was really intense and non-stop." Then, while feeding her little boy in the middle of the night, an ad for Entrepreneurial Spark popped into her social media feed. "That was my Eureka moment," she remembers. "I thought that if I got this thing up and running I'd leave my job and do it full-time. So I applied to Entrepreneurial Spark – who work in partnership with RBS – and, just two weeks later, total serendipity: I was offered voluntary redundancy at work. It was a real sliding doors moment. I got my Entrepreneurial Spark place and we went from zero to 100mph overnight."

This Mum Runs is extremely active on Facebook, and tries not to make any decisions without involving the community. Even when Mel was considering taking redundancy and going full-time, she posted two pictures of her legs online; one in trainers, the other in heels and a work skirt, and said: 'I've got this opportunity to take redundancy and do This Mum Runs full-time. What do you think?' Then I asked people to vote heels or trainers. The response was insane. One day, while driving to a meeting, I stopped for petrol and the woman at the next pump said 'Definitely trainers!'"

Mel was approached by the National Trust who'd launched a 10k run series on its property. "They wanted to get more women involved," Mel notes. "So I met, chatted to and ran with the head of sports development, and we agreed on a pilot programme where I'd run a couch-to-10K programme on their land when it was closed to the public. That was incredible because some women didn't feel like joining our runs because they were too self-conscious about people watching. Now they could do it "behind closed doors" if you like. The benefit worked both ways. I conducted a survey before the course started and after it finished to see what the runners thought of the National Trust and, by the end, 100% said they'd become a member or volunteer their time.

Being in Entrepreneurial Spark really helped shape Mel's attitude. She couldn't help but be a sponge and learn everything. At the three and six month marks, Entrepreneurial Spark runs an awards programme, "Accelerate", which recognises the business with the most acceleration. This Mum Runs won both. From a revenue perspective, things couldn't get any better either. The business made more money in the first five days of January 2016 than it did in the last five months of 2015.
Mel's biggest challenge is balancing the day-to-day while planning for growth. "There will always be a natural tension between those things," she believes. "At the moment, I've got one part-timer and two interns, but we probably need 10 of us. This January we were working until 11:00pm every night. I thought, 'I don't want to burn them, or me, out.' But start-ups can make changes quickly. I knew we needed to focus on the experience, so I shuffled the team around and now everyone is working more sensible hours.

"As we grow, we'll look at other ways of making money like sponsorship and public funding. And by scaling and rolling out nationally, we'll have a big community of women and lots of insights into behaviours, the triggers to exercise and the obstacles. The data-side is really important. There's value in it. Although I'm out of my comfort zone, this is where I've long wanted to be. Deep down, I've always had an entrepreneurial spirit. Now that the name is trademarked, we've rebranded and there's a range of merchandise in the pipeline."

Related articles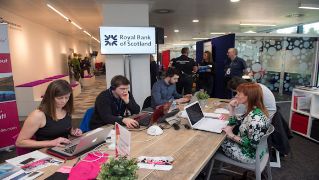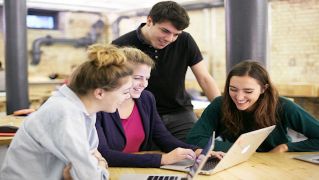 We're now NatWest Group
Come and visit us for all our latest news, insights and everything NatWest Group.