Guest blog: Giving something back
Vicky Morrell, Founder of 'A Little Something Back' discusses the benefits of being in an Entrepreneurial Spark hatchery and her meeting with RBS CEO Ross McEwan.
My business, 'A Little Something Back' is a fundraising rehabilitation service which I founded in 2013 in partnership with Body Shop at Home representative Dawn Hay. Together we have created a unique service for offenders which gives them the opportunity to send a gift to their families and loved ones. Each gift is wrapped to suit the occasion - whether it be Mother's Day, Christmas or Eid- and includes a personal message from the sender. The gift is then sent direct to the offender's family and what makes our model unique is that a percentage of our sales is donated to local charities .

I started my journey with Entrepreneurial Spark after my business partner saw an advertisement for the Leeds hub and she urged me to apply.

Applying for Entrepreneurial Spark was the best decision I ever made as I knew what my dream was but I didn't know how to get there. Entrepreneurial Spark have guided, supported and challenged me and this has helped me grow both my business and myself as a person. Having the amazing hatchery to work from has enabled me to separate my work and home.

Yesterday I met with RBS CEO Ross McEwan at a prison to show him some of the work being carried out by 'A Little Something Back'. I presented how the initiative had started and where we are today.

During the course of the day we presented funds to two local charities (Cash for Kids and Make a Dream) which offenders had raised in 2015 through fundraising events, and Jeremy Ambrose (Entrepreneurial Spark mentor for the North England) delivered a talk to offenders about Entrepreneurial Spark which was very well received.

The future plan for 'A little Something Back' is to have every prison raising funds for charity using our model. Further products have been identified to replicate our model and upon expansion of our service will create employment opportunities for ex -offenders in the role of packaging and distribution.
Vicky Morrell was among the entrepreneurs and local business figures who to talked to CEO Ross McEwan about the impact of the Leeds enterprise hub. Watch this video and hear their thoughts:

Related articles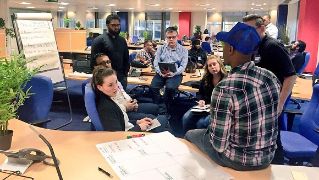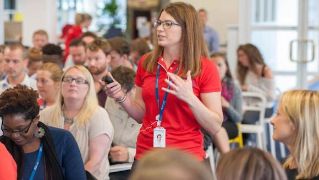 Embracing your lizard brain
Lorraine Beer, an RBS employee working at Entrepreneurial Spark's Bristol hatchery, explains how entrepreneurs are encouraged to embrace their fear.
We're now NatWest Group
Come and visit us for all our latest news, insights and everything NatWest Group.