Banknotes: 8 things you might not know
As the production process for the new £10 note featuring Mary Somerville begins, we dig into the story behind our banknotes and share eight facts that might surprise you.

1. Face value
These days almost all notes have someone's face on them. That's because our brains are so attuned to looking at faces that we easily spot tiny differences - and that makes them an excellent anti-counterfeit measure. The first British banknote to make a main feature of a face was issued by the Royal Bank of Scotland in 1727 – our very first design, in the year the bank was established. It bore a portrait of the king at the time, George II.
2. A bank of firsts
Other features that we think of as standard today were also pioneered by the Royal Bank of Scotland. Back in 1777 we were the first bank in Europe to issue multi-coloured banknotes (black, red and blue) and in 1826 we became the first British bank to issue a double-sided note.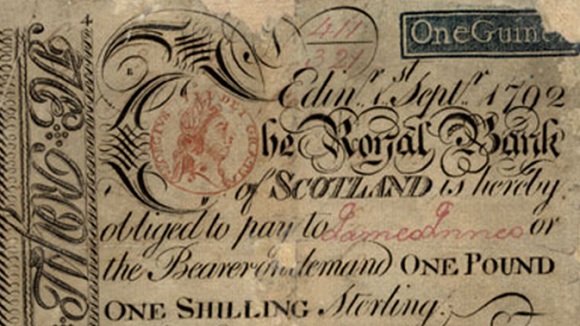 3. What makes Scotland different?
Centuries ago, almost all of Britain's banks issued their own notes – it was a key part of banking business. However, irresponsible note issuing could cause problems for the economy, so in the 1840s the government changed the law to encourage the gradual ending of English and Welsh banks' notes, leaving just the Bank of England as an issuer. But in Scotland, the banks had been good at regulating and organising their note issues. The system was very stable, and people depended on it. The banks and the public together persuaded the government that the Scottish system didn't need fixing, so the same controls were not applied to Scotland. That's why Scottish banks can still issue their own notes to this day.
4. RBS through and through
Each note the bank issues incorporates a number of security features. Most are visible to the naked eye. Many are also machine readable. Did you know, for example, that if you hold an RBS banknote up to the light the bank logo at the bottom left of the front of the notes will fill neatly with colour? And if you were to take a magnifying glass and study the block of colour at the bottom of the front of the note, you'll find it isn't really a block of colour at all. It actually reads 'RBSRBSRBSRBS' and the line immediately above the block of colour reads 'The Royal Bank of Scotland'.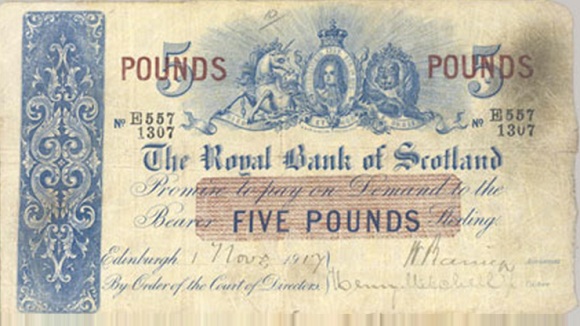 5. Notes not legal tender...
Contrary to popular belief, Scottish banknotes are not actually legal tender. And Bank of England notes aren't legal tender in Scotland either. Officially, the phrase 'legal tender' means money that a person is obliged to accept if offered it in payment of a debt. Under Scottish law, that does not include banknotes, which are classified as 'legal currency' but not 'legal tender'.
The only historical exception to this was during the two world wars when, as a temporary measure, the government made banknotes legal tender in Scotland, to reinforce people's trust in them. This was important in a time of shortages, when the government needed to be sure people wouldn't hoard gold.
6. When is a £10 note not a £10 note?
The Scottish banks have always undertaken to accept - at face value - any of their old banknotes, even after designs have left circulation. Many notes are, of course, worth much more than their face value, because they've become collectors' items over the years.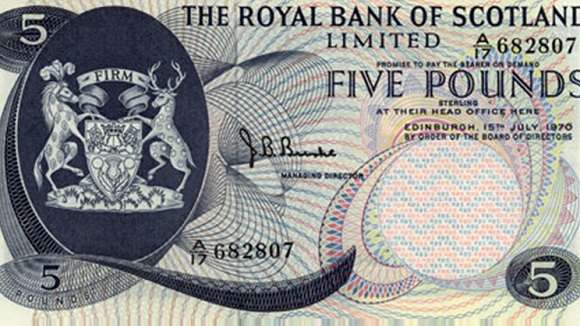 7. Sign of the times
Every one of our banknotes was hand-signed by a bank official until 1936. The tradition lasted a bit longer on high denomination notes; the last Royal Bank £100 note to be signed by hand was issued in 1949. Originally, this task was a responsibility of the bank's most senior officers, but as circulation grew, more junior clerks undertook the job on their behalf.
8. The Ilay series
The Royal Bank's current designs are called the 'Ilay series', after the bank's first governor, the Earl of Ilay, whose portrait appears on them. On the back, each denomination has an illustration of a different famous Scottish castle. This series has been in circulation since 1987. Traditionally, the Royal Bank didn't issue a £50 note, but one was added to the series in 2005, depicting Inverness Castle.
Related articles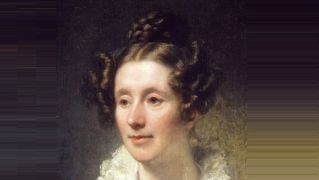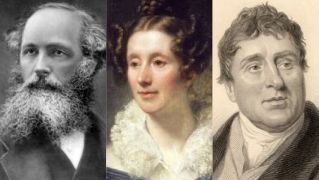 Royal Bank of Scotland announces shortlist to appear on new £10 note
The Royal Bank of Scotland has today announced that James Clerk Maxwell, Mary Somerville and Thomas Telford have been shortlisted to appear on its new polymer £10 note, set to be issued in the second half of 2017. The final decision will be made following a public vote running from Monday 1 February to Sunday 7 February.
We're now NatWest Group
Come and visit us for all our latest news, insights and everything NatWest Group.