Guest blog: Tackling homelessness with football
Founder of Street Soccer Scotland, David Duke, found an opportunity through football that not only helped lift him out of homelessness, but also gave him the chance to help other people in the same precarious situation.
I grew up in the Govan area of Glasgow which was heavily affected by the decline in industry. My dad had alcohol issues and although there were people a lot worse off than me, I didn't get the best start as a kid.
When my father died I went off the rails. I became withdrawn and started drinking heavily. It spiralled out of control and I eventually found myself living on the streets. These are classic things that can lead to homelessness, but you don't realise it's happening to you at the time. When your life is out of control it's easy to slip into serious problems.
My life became chaos and I found myself moving from one run-down hostel to another. Luckily, because of my age, I managed to access a young person's support programme. One day I saw a poster for the Homeless World Cup so I took part in trials run by the Big Issue and managed to get picked for the squad.
Looking back, I know when the change happened for me. I went from waking up in the morning and wanting the day to be over, to suddenly having something positive – like football – to focus on.
I returned from the Homeless World Cup with a desire to make a difference. I volunteered at a local children's football team and began doing my coaching badges. The structure this provided allowed me to get out of the hostel and find accommodation, as well as go to college to become a community worker. I started working full time with homeless people and doing football coaching in the evening.
I've been lucky enough to rebuild my life through football and I wanted to give something back. After coaching the Scotland Homeless Word Cup squad for a number of years I decided to recreate the positive energy and hope it provides - but for thousands of people, rather than just a handful.
I received a £3,000 grant from social enterprise agency Firstport, and quit my job to focus on building Street Soccer Scotland. It was a big risk and it has been extremely hard work. But seeing how Street Soccer has developed has been incredibly rewarding. We've grown from it just being me to having 16 staff and 40 weekly programmes engaging people right across Scotland.
Recently RBS began sponsoring us and that financial backing is obviously a big boost. But it's the variety of support we receive from the bank that's more important. We've been given access to business mentoring which helps us with marketing and branding, we've been promoted through RBS marketing materials and we've been allowed to use RBS premises. Not to mention RBS being the shirt sponsors for the Scotland Homeless World Cup squad earlier this year.
Their support is invaluable in helping Street Soccer Scotland support some of society's most vulnerable people.
Related articles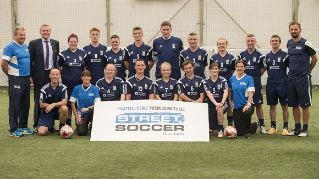 We're now NatWest Group
Come and visit us for all our latest news, insights and everything NatWest Group.