Bristol start-ups win big at Entrepreneuring Awards
Start-up businesses based at Entrepreneurial Spark's Bristol Hatchery have shared around £35,000 in prizes after pitching their plans in the prestigious Entrepreneuring Awards.
Organised by Entrepreneurial Spark and its partners NatWest and KPMG, the awards offered cash prizes aimed at helping early-stage businesses to get off the ground and grow.
Intro won the #GoDo prize of £4,000 for its online platform that helps students develop their employability skills and find meaningful jobs at exciting companies, while This Mum Runs took the £6,000 Acceler8 Award for its running and fitness courses that "work around the kids".
Winbox, a full service email marketing agency that helps businesses become market leaders among their target audience, won both the Entrepreneur of the Moment Award and the Chiclet Choice Award, with prizes of £10,000 and £2,000 respectively.
Entrepreneurs put the skills learned over last six months into practice as they pitched their business at the gala event. Winners of the pitching competition, as well as the #GoDo Awards, Acceler8 Awards and others, shared thousands of pounds to help develop their business ideas and put their plans into action.
Caroline Thompson, Entrepreneur Development Manager, NatWest, said:
"The Entrepreneurial Spark hub in Bristol provides a fantastic source of facilities, coaching and mentoring for entrepreneurs from across the region. The winners have shown themselves to be the best of an outstanding crop and we're proud to provide them with a financial boost that will enable them to further develop and grow their businesses."
Entrepreneurial Spark founder and chief executive Jim Duffy commented:
"The Entrepreneuring Awards have grown alongside our network of Hatcheries, and the latest round was the biggest yet. The cash prizes are an excellent way of boosting some of our most promising businesses and accelerating their growth, and the events also provide valuable networking opportunities and pitching practice. Entrepreneurs need to be able to explain their business briefly and concisely, and they never know when they might meet a potential investor, client or partner. That's why we drill our Chiclets to ensure that they are clear on their goals and able to pitch their ideas."
The awards ceremony in Bristol coincided with others at Entrepreneurial Spark's Hatcheries across the UK. Hatcheries will open in Manchester (10 February), Edinburgh (12 February) and Belfast (3 March).
Entrepreneurial Spark is the world's largest free accelerator for start-up and scale-up businesses, and competition for the latest intake to its accelerator programmes was intense. To find your nearest Hatchery and register interest for the August 2016 intake, visit www.entrepreneurial-spark.com.
Related articles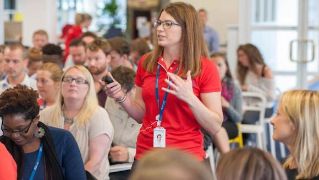 Embracing your lizard brain
Lorraine Beer, an RBS employee working at Entrepreneurial Spark's Bristol hatchery, explains how entrepreneurs are encouraged to embrace their fear.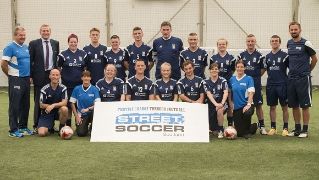 Guest blog: Tackling homelessness with football
Founder of Street Soccer Scotland, David Duke, found an opportunity through football that not only helped lift him out of homelessness, but also gave him the chance to help other people in the same precarious situation.
We're now NatWest Group
Come and visit us for all our latest news, insights and everything NatWest Group.