Focusing on customers
Les Matheson, CEO of Personal and Business Banking NatWest and RBS, comments on the decision to scrap incentives for all customer-facing employees.
Since 2014, the Personal and Business Banking business has been relentlessly focusing on becoming the number one bank for customer service, trust and advocacy by 2020. We've made good progress on this by challenging the industry on things like scrapping teaser rates that aren't in our customers' best interests, offering our new and existing customers the same price whether they're in a branch or on the phone, and simplifying our product range so it's easier for our customers to choose a product that suits their needs best. In doing all this, we've learned an important lesson – we need to keep doing the right thing for our customers.
Our customers come to us because they know we can help them with their finances – whether that's taking out a mortgage, protecting their financial future or managing their business. But what they also need to know is that every conversation they have with us is based on them and their financial needs.
Removing incentives is good for our customers, but it's also good for our employees. We're showing confidence in our people by removing this distraction and rewarding them up front so their sole focus is on doing a great job for our customers every day. And through having engaged employees, we are confident we will deliver the best level of service to our customers.
We can't change the past but we can learn from it. We want to be better than any other bank and we feel that having our employees completely focused on the financial needs of our customers is another way to win back their trust.
Related articles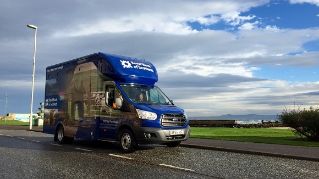 Bringing banking to Morayshire
Jimmy Robertson, Regional Director for Scotland, explains how the local communities in Morayshire will benefit from the new mobile branch; The Moray Rambler.
We're now NatWest Group
Come and visit us for all our latest news, insights and everything NatWest Group.