The North East was one of the fastest growing regions in Q1, but it had to settle for third place this time around, a position which it shared with three of the other regional economies: the East, the East Midlands and Wales. Growth of 0.5%q/q was mainly due to professional services, retail and wholesale and utilities. Manufacturing had a tougher quarter in Q2, so regions like the North East, which have a heavier reliance on the sector, fared worse than otherwise on our estimates.
Darlington and Tyneside were the top two local area economies, both growing by between 2.5%y/y and 3%y/y. Business services and wholesale and retail were the sectors making the largest contributions to growth. And while the North East's unemployment rate is still the highest in the UK, it has fallen significantly over the past year, while earnings growth at 1.8%y/y has been slightly above the UK average.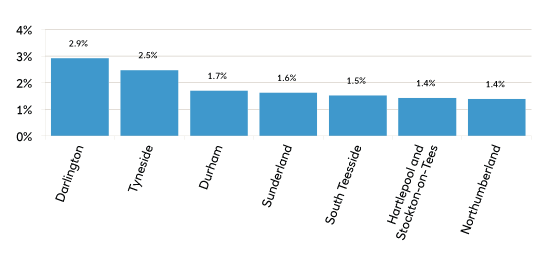 View from the region
"In the North East the economy continue to grow and develop. A popular theme we are seeing is the desire to support local communities. Small family-run businesses such as Jiggery Pokery in Stocksfield and Shotley Bridge Nursery in Shotley Bridge are playing an important part in their local areas by becoming hubs for community activities. Consumers are also showing more interest in supporting small local businesses.
And large corporates such Wear Inns are also committed to investing in the local area. Wear Inns is embarking on an acquisition project aimed at developing community hubs across the North East and Yorkshire regions through its public houses. The scheme will see the creation of new jobs across the patch.
There is also much excitement around new enterprises. We have supported Gateshead College's handPICKED which is an independent gift shop run by the college at the Intu Metro Centre. The student-run shop sells a range of local products created by local businesses. We are also getting ready to open Entrepreneurial Spark's new hub in Newcastle next year. The programme, which is powered by NatWest, will see up to 80 entrepreneurs take part in a free sixmonth programme. They will access to full office fabilities, and also obtain advice and support to help their businesses grow."
Heather Waters, Regional Enterprise Manager